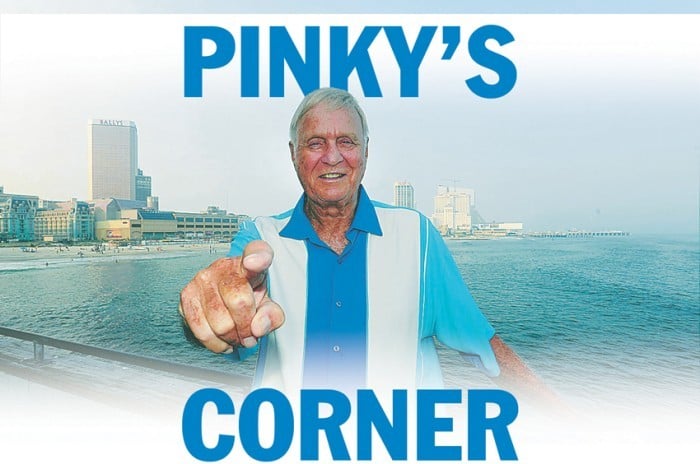 Last week, the news came out from HBO that "Boardwalk Empire" will have a fourth season in 2013. Many of us in this area who have been caught up in the television series are delighted to hear that the show will be continued for another year.
I thought you would be interested in the following information that came from "TV Fact-Checkers: Ginning Up Boardwalk Empire's Boozy Gangster Paradise," which was written by Angela Watercutter.
Have you ever wondered how they've come up with the information about Atlantic City's history and the specific characters in the show? Besides reading "Boardwalk Empire," written by Nelson Johnson, two former locals were selected by executive producer Terence Winter, who sought detail-oriented researchers who could make everything as historically accurate as possible.
Edward McGinty and Vicki Gold Levi are Atlantic City natives whose connection to the town goes back to the days of Prohibition. McGinty's grandfather worked at the Ritz-Carlton Hotel when Nucky Johnson was living there; Gold Levi met the man himself as a kid.
Winter met McGinty in Los Angeles. McGinty showed up with a shopping bag full of photographs, many of which were of his grandfather, who worked as a bellman in the actual Ritz-Carlton Hotel. Winter said, "You're hired. I mean, I don't know for what, but you've got to come to work with me."
McGinty noted that at the end of the interview he pulled out a photo with his grandmother and grandfather standing on the Boardwalk, probably around 1922, and then the picture of his grandfather in the bellman's outfit.
Winter noted that McGinty is basically in charge of the research and also an actor on the show. He played one of the ward bosses — he is Ward Boss Boyd. He's like a big, burly guy with a mustache. He stated, "The name Boyd is actually a historical reference to one of the political operatives who was a fishing buddy of his grandfather."
Winter was talking about a certain scene, and he just looked up at McGinty and said, "With that face, you should be one of the ward bosses." Again, he said he thought he was kidding, but the next night Winter called him and said, "No, I'm serious. You have to go audition in the morning."
Gold Levi stated: "When I went to the Boardwalk (set) for the first time in Brooklyn, I was in tears — it was so good. It was more the Boardwalk of my childhood than the Boardwalk of today, even though it was 1920. It was pristine ... the colors were right. Everything about it was perfect."
McGinty and Gold Levi, being natives, were asked if they feel a responsibility to do the city justice with the show.
McGinty responded, "I do lose sleep at night with fears that something like that will come up on me. Even after it airs, there are so many eyes on the show. I'm sure it's just a matter of time before I'm called to task. That happens every now and again when I'm back in Atlantic City, (and) I get back there quite a bit. Every now and again, some old-timer in a restaurant says, 'It wasn't like that back then.' I just have to say, 'It's a piece of historical fiction.'"
Gold Levi said, "Atlantic City ... they love that I'm here. It's going to be on my gravestone."
Being a devotee of this wonderful series and one who had the pleasure of knowing McGinty's grandfather and Vicki's father as well as Nucky Johnson and his wife, Flossie, I am delighted to see how well they portray some of the historical aspects of what happened in that era.
I had been invited to see the sets in Brooklyn, and I, too, had tears in my eyes when I particularly saw the Incubator Babies Store. I remember so well the first time I walked into the store and saw the children in the incubators. They were set up in a row, and at the end of the row was a bucket inviting you to give whatever you desired to help provide for the nurses to care for the children. I remember having five pennies in my pocket my mother had given me for candy. I took out the pennies and put them in the bucket. I felt proud of myself for doing so.
Thanks, HBO, for the memories I relive seeing the characters that I knew as real people and the excellent publicity that is being given to Atlantic City. The "Boardwalk Empire" facade in front of the west wall of Boardwalk Hall is the most popular photo site in Atlantic City. This is our way of thanking Nelson Johnson and HBO for making it the popular series it has become.
This past Saturday evening, nearly 7,000 basketball fans turned out to see a game between the Philadelphia 76ers and the Brooklyn Nets that ended up as an overtime win for Brooklyn. Those who sponsored the game were pleased with the turnout of the fans. This is the kind of support that is needed so that we can get more events of this magnitude.
A couple of weeks ago, I wrote about the fact that Boardwalk Hall will serve as the site for four American Hockey League games. Those of us who enjoyed hockey in Atlantic City as children and remember the Atlantic City Seagulls and Boardwalk Bullies are hopeful a similar type of crowd will turn out to see these games.
It was interesting to note that New Jersey's Lt. Gov. Kim Guadagno stated that she hoped the games will draw big crowds so that the Albany (N.Y.) Devils may make Boardwalk Hall their home next year. This is a great idea and hopefully the public will respond.
Dan Heneghan, public information officer of the New Jersey Casino Control Commission for 16 years, has been honored by the Council On Compulsive Gambling of New Jersey for the many years he served to increase public awareness of problem gambling and to promote Problem Gambling Awareness Month.
He was given a Lifetime Achievement Award for his dedication to this organization and deservedly so. Congratulations, Dan, for well-deserved recognition of your tireless hours helping those who had problems with gaming.
Pinky's Corner appears every Thursday in The Press. The Pinky's Corner radio show airs 4 to 6 p.m. Mondays through Fridays on WOND 1400-AM. His TV show, "WMGM Presents Pinky," airs 7:30 p.m. Saturdays on NBC TV40. Email Pinky at: pinky@pressofac.com.