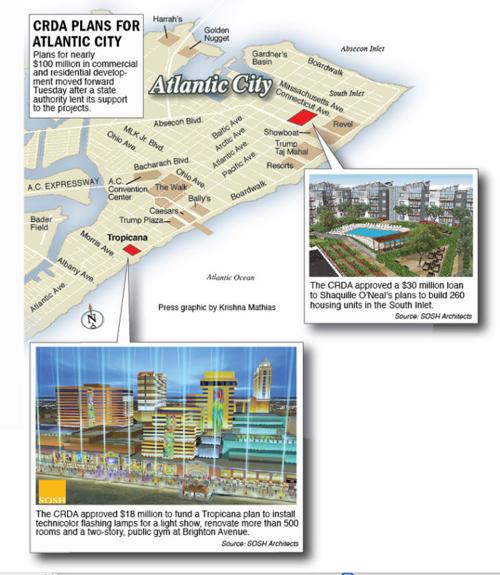 ATLANTIC CITY — A Boardwalk light show at Tropicana, a health and fitness center open to the public and an upscale housing complex all appear headed for Atlantic City.
Plans for the nearly $100 million in commercial and residential development moved forward Tuesday after a state authority lent its support to the projects.
Tropicana Atlantic City Casino and Resort unveiled its plans for a four-phase project totaling $35 million. The work, expected to begin in September, will envelop several elements, including converting storage space into a two-story health and fitness center open to the public at Brighton and Pacific avenues.
The casino also plans to update 434 North Tower hotel rooms, which Tropicana President and CEO Tony Rodio said are in "dire need" of renovation. Shops will be added at Morris and Pacific avenues, an area that Rodio described as a dead zone that "leaves a lot to be desired."
Atlantic City's approach to attracting convention sales will change drastically in the comin…
A Boardwalk light and sound show involving a dozen light projecting bollards and nine LED screens on the casino's towers will run at timed intervals on the renovated casino facade once the work is complete.
Around the same time this fall, New Brunswick-based Boraie Development plans to begin work on a $60 million apartment building dubbed as "The Beach at the South Inlet." Known as part of Pauline's Prairie, the land that has long sat vacant will become home to 250 apartment units in what developers say will be a high-end complex that could eventually connect to a second phase of the complex, including a grocery store and movie theater.
The Casino Reinvestment Development Authority on Tuesday agreed to provide a $30 million loan for the Boraie project. CRDA's funding will not be accessible until Boraie secures the funding for the entire project, CRDA Executive Director John Palmieri said.
The authority's loan financing will flow from sales tax rebates that Revel Casino Hotel must remit to the authority for development projects in the South Inlet. CRDA derives $5 million annually from the rebates.
The authority also took initial steps toward approving $18.8 million for Tropicana's four-phase project expected to be complete by the end of 2015. The remaining $16.2 million is expected to come from Tropicana's capital investment.
Rodio said much of the capital investments made in Tropicana in the four years since the casino emerged from bankruptcy have been devoted to "things that are just expected to work" such as roof repairs and elevators.
With the new project, however, the casino will add new amenities and will follow some of the goals of the 2012 Atlantic City Master Plan. The plan calls for activating the street level of casinos and encouraging a more walkable environment.
Meanwhile, Wasseem Boraie, vice president of Boraie Development Inc., described a residential complex with wood floors, stainless steel appliances and granite counter tops. The low-rise building would wrap around New Jersey, Pacific, Connecticut and Atlantic avenues with an enclosed pavilion and pool.
"This is what we need to attract people back to Atlantic City," Boraie said. "Based on our research, if there was a product geared toward the young in Atlantic City, they would live here."
Plans for the Boraie project weren't without reservation. Some CRDA board members expressed concern over demand for the project. Eighty percent of the units are expected to be rented at market rate of between $1,000 and $1,300 a month. The other 20 percent of the units would be rented at an affordable housing rate for those who make 60 percent of the median income.
Board member Howard Kyle, Atlantic County's chief of staff, said he had concerns based on the city's poor history with rental properties. Atlantic County Freeholder Chairman Frank Formica also questioned interest in the units saying that at least some of the renters would have to come from within other units in the city.
"With all due respect, there are not people flocking to Atlantic City," Formica said.
Another board member, Matthew Levinson, chairman of the Casino Control Commission, said he wanted the CRDA to receive a copy of a market study on the project that would be completed by bank lenders.
Boraie said the study would be provided but stressed his confidence in the project adding, "If I need a market study to tell me there's a market, I'm in the wrong business."
New Jersey Division of Gaming Enforcement Director David Rebuck asked if the developer planned to remain in Atlantic City as owner and manager of the complex, to which Boraie replied that the company would not come to Atlantic City unless it planned to be in the resort long term.
"I'll look for that for that condition when we negotiate," Rebuck said.
Follow Jennifer Bogdan on Twitter @ACPressJennifer