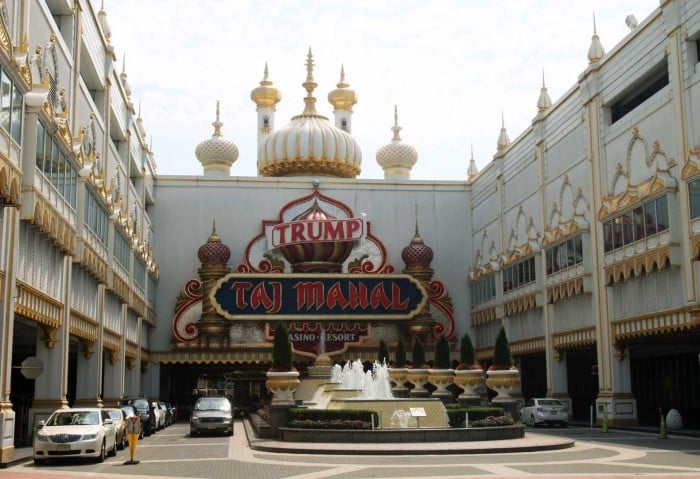 ATLANTIC CITY - Regulators are considering changing state law to allow casinos to use armed security guards, officials said Monday, nearly a month after a fatal carjacking that started in a casino parking garage.
The New Jersey Casino Control Act prohibits guns in casinos - not only on the floor, but anywhere on the property, including hotel rooms and parking garages - without special written permission from the Casino Control Commission.
And casinos use only unarmed security, unless they have hired off-duty police officers on overtime details.
That could change if the state Division of Gaming Enforcement agrees to a request by Trump Entertainment on the heels of the second fatal carjacking in 16 months at the company's Trump Taj Mahal garage.
"That's as far as it has gone at this time," Trump Entertainment CEO Bob Griffin said. "I thought that was a positive that it was not a quick 'No,' and shows that the leadership at the DGE is open."
Griffin said he spoke to DGE leaders a week or two ago about the possibility but was not told how long it might take the agency - which has taken over most functions formerly handled by the CCC during the past year - to assess the matter and come up with a determination.
DGE representatives declined comment Monday, a federal holiday, but said they likely will disclose more today or later this week.
Griffin took over in November 2010, six months after 47-year-old Martin Caballero was killed after being carjacked at the Trump Taj Mahal parking garage.
Trump went on to invest millions in surveillance and security improvements. The company also pays for an Atlantic City police officer and squad car to patrol the Taj parking garage at the rate of $73 per hour. But on Sept. 15, another carjacking originating in the multilevel garage claimed the life of Sunil Rattu, 28, of Old Bridge, Middlesex County.
Using armed guards is one option of many officials are weighing as they explore ways to make the city safer, Atlantic City Tourism District Commander Tom Gilbert said.
"It would be a new step, and we certainly would have to defer to the legal experts to see the viability of such a program within the casinos," Gilbert said Monday.
Atlantic City police Deputy Chiefs Ernest Jubilee and Henry White each said Monday they were unaware the issue was being considered.
Many large-scale entertainment venues and other places that draw large crowds in Las Vegas and beyond use armed security guards. But the DGE and state Attorney General's Office must study the issue before taking the next step, Gilbert said.
"We continue to take a very exhaustive look at what is going on elsewhere in the state, elsewhere in the country," Gilbert said. "Our goal is to bring the best practices together."
The majority of casinos in Las Vegas once employed armed security guards, but now only about half choose that option, security consultant Ken Braunstein said Monday.
Braunstein's company is based in Vegas, but he has worked in every major gaming market in the U.S. He said he typically advised against arming security guards because the job's pay and training pale in comparison with what's typical for law-enforcement officers.
Some local industry officials said they would not support allowing armed security guards.
"When you start talking about carrying weapons, I think that's much better left in the hands of police," Revel Entertainment Group CEO Kevin DeSanctis said.
DeSanctis, a former State Police trooper who worked for the DGE before leaving law enforcement to work in the gaming industry, said he thinks security practices in place now are working.
"I'm not sure what people are reacting to, but I think ... the most important thing with security is presence of people who look like they have some kind of official capacity. I'd be much more in favor of having a few more people out there walking around," said DeSanctis, whose $2.9 billion casino will open Memorial Day weekend in the city's South Inlet section.
State Sen. Jim Whelan, D-Atlantic, agreed.
Whelan said he would prefer increasing visibility or using former or off-duty law-enforcement personnel. Arming security guards also would require legislative changes, said Whelan, chairman of the state Senate Committee on State Government, Wagering, Tourism & Historic Preservation and a former Atlantic City mayor.
"Having said that, casinos have cut back across the board and they've cut back on security - and that needs to be addressed," Whelan said. "I think it needs to be a comprehensive approach, one that doesn't put all the burden on the police department, but I don't think guns, per se, are the answer."
Recent violence in Atlantic City highlighted casino security cuts - which amounted to 25 percent during the past five years - and the resort's violent crime rate, the highest of the top-ranked U.S. gaming markets.
All of that compounded an existing need to compensate for the recession and competition from new casino industries in nearby states, Spectrum Gaming analyst Joe Weinert said.
"This comes at a sensitive time for Atlantic City," Weinert said Monday. "This industry's been hurting for the past five years, and with these incidents, if Atlantic City doesn't take concrete, visible steps to at least improve the perception of safety, this could be an issue on some basis in terms of the city's appeal."
Staff writer Lynda Cohen contributed to this report.