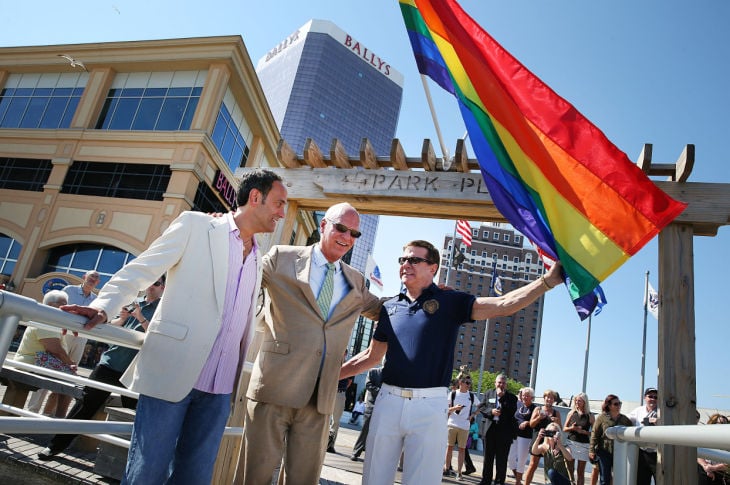 ATLANTIC CITY — Perhaps it is time to resurrect Atlantic City's old tourism slogan — the Queen of Resorts — and give it a contemporary twist.
With a bevy of cross-dressing beauties strutting around Boardwalk Hall, a drag queen serving as a new tourism ambassador and contests for lavish gay weddings at the casinos, the resort town has a message for the LGBT crowd: Come "out" and see us for a good time.
As more gamblers defect to casino markets in nearby states, Atlantic City officials have begun to refocus their marketing on other groups. Lesbian, gay, bisexual and transgender tourists are among them.
"Atlantic City is taking a new look at identifying new visitors who will come here for paid leisure visits, whether that is foodies or concertgoers or gay travelers," said Jeff Guaracino, executive director of the Atlantic City Alliance, the resort's marketing arm.
The city has had a long association with the gay community. Back in the 1920s, the gay entertainment scene was concentrated along Westminster Avenue, a stretch between New York and Kentucky avenues dubbed "Snake Alley."
In those days, the gay lifestyle was more of an underground culture. As gays and lesbians have entered the mainstream in contemporary culture, including same-sex marriages in New Jersey, Atlantic City has made an even bigger push to court LGBT tourists.
As a group, gays and lesbians spend more than $60 billion annually in the U.S. travel market, according to data by the U.S. Department of Commerce. Atlantic City wants to grab a larger share of that business by touting itself as a gay-friendly tourist destination.
"The LGBT market is a good business market for Atlantic City," Guaracino said.
Atlantic City's expanding outreach to the LGBT market includes a recent partnership with internationally known drag queen Miss Richfield 1981 to serve as the resort's gay ambassador. The hope is that Miss Richfield, the alter ego of entertainer Russ King, will draw a big following of LGBT customers to town.
"Her show plays to thousands and thousands of people across the country during the year," said Matt Farber, business manager for the Miss Richfield character. "The close association with her brand is what you're getting for Atlantic City."
Farber, of New York, is the founder of the Logo TV network watched by millions of gay households. In 2013, he was involved in a marketing effort to get Atlantic City's Miss'd America pageant at Boardwalk Hall more exposure through a YouTube channel he started.
Miss'd America, which began decades ago as a loosely coordinated drag show at the Studio Six nightclub in Atlantic City, is a cross-dressing spoof of the Miss America Competition. It now serves as one of the centerpieces of Atlantic City's gay-themed entertainment lineup. It is scheduled to return in Sept. 26.
This summer will see a number of major events catering to the LGBT market. They include Sand Blast AC, billed as the largest Mid-Atlantic summer gay and lesbian beach party. Sand Blast moved from Asbury Park to Atlantic City in 2014 and is scheduled for July 17-20 this year.
FIBO, one of the largest events catering to LGBT African-Americans, is coming to Atlantic City Aug. 7 to 9 after being held the last 12 years at Fire Island, New York.
Atlantic City's casinos and noncasino hotels have been aligning themselves with Miss'd America, Sand Blast and other LGBT events, but they have also been launching their own gay-themed promotions. Caesars Entertainment Corp., owner of the Bally's, Caesars and Harrah's Resort casinos, was a leader in the gay-travel trend by starting the "Out in Atlantic" LGBT party series in 2009.
Caesars Entertainment, nationally recognized for its diversity programs, followed up last year with a $50,000 gay-wedding giveaway that celebrated New Jersey's same-sex marriage law. The event was hailed as a big success.
"It continues to be an important aspect to our marketing efforts for Atlantic City and other markets," Gwen Migita, vice president of corporate citizenship and community relations for Caesars Entertainment, said of the LGBT customer base.
Migita also said Atlantic City's relationship with the LGBT community was boosted by the 2013 election of Don Guardian, the city's first openly gay mayor.
Borgata Hotel Casino & Spa, Atlantic City's dominant casino, debuted its "OUT at Borgata" brand in February, featuring a series of entertainment events and promotions aimed at the LGBT market. Borgata has also been offering hotel packages and weddings for its gay guests.
"As with any demographic, we believe there is a segment of the LGBT demo that enjoys travel and would appreciate Borgata, being we are the premier resort destination on the East Coast," Joe Lupo, Borgata's senior vice president of operations, said in a statement.
Resorts Casino Hotel made headlines in 2011 by opening the first gay nightclub in an Atlantic City casino and hiring the gambling industry's first marketing director devoted strictly to LGBT customers. The nightclub has since been redeveloped for convention space and the LGBT marketing director has left and not been replaced. However, Resorts continues to heavily promote itself to the gay market through LGBT-oriented entertainment, travel shows and fund-raisers, said Mary Tindall, the casino's vice president of marketing.
Tindall also said Resorts continues to be the only Atlantic City casino to fly the rainbow-colored flag, a symbol of the gay community, outside its property.
Contact Donald Wittkowski:
Be the first to know
Get local news delivered to your inbox!