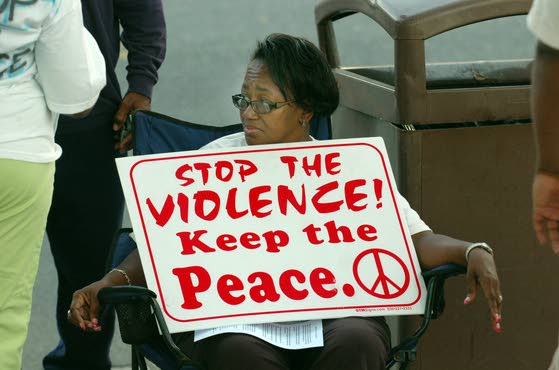 A month ago, this city was averaging nearly a shooting incident a week for the year. Two people had been killed and 15 others wounded by gunfire. No arrests had been made.
But the shootings stopped after a week of prayer vigils that attracted hundreds of people, with calls for residents to report crime. The first gathering planned by the Center of Deliverance & Empowerment was held July 5. The last reported shooting was July 6.
"The community is not afraid anymore," the center's Minister Neil Pressley said Wednesday.
Police Chief Duane Comeaux has seen the difference. Suddenly, residents are coming forward. His department has worked to make sure residents know their tips will be followed up while protecting their anonymity.
"Things are getting a lot better than they were," Comeaux said.
Things looked bleak June 30 after a resident was caught in the crossfire during a shootout between two drivers along Park Avenue. A woman driving by had a bullet go through her windshield, but was uninjured.
"In a lot of these incidents, they (residents) know who the perpetrators are, but they're not coming forward," Capt. Rocky Melendez said as the violence continued.
No shootings have been reported for nearly a month. And in the few violent incidents since, residents have stepped up.
Witnesses came forward right away after Rashed Almagir was stabbed twice in the chest at about 10 p.m. July 20, as he worked at his Pleasantville General Store. That same night, Owen Weston, 21, was in custody.
But residents weren't done.
Five days later, a tip came into Atlantic County Crime Stoppers at about 3:30 in the morning. The caller knew where Weston's accomplice was and what he was wearing. Soon, Patrick Carruth, 19, was under arrest.
While police still haven't made any arrests in the previous shootings, they say residents are now sharing what they know.
"There's been a lot of citizen input, citizen cooperation," Comeaux said.
Police have also adapted in an attempt to put the shootings to an end.
Comeaux said his department has made modifications both tactically and operationally in recent weeks from an increase in covert work to more officers stopping in neighborhoods to make door-to-door visits.
Included in the boost of law enforcement manpower has been support from the Atlantic County Prosecutor's Office and other outside agencies. The city has not given much detail on who or what agencies have helped, but Comeaux has said it includes county, state and federal entities.
The diligence has seen results.
Pleasantville police said they arrested Joshua Lovest, 25, Tuesday night on multiple weapon and drug charges during a motor vehicle stop after he ignored orders from Patrolman Thomas Zyckowski not to reach for a bag on the front passenger seat. A defaced 9mm handgun was inside. Lovest, a Mays Landing resident, also had an ounce of marijuana, police said. He was taken to the Atlantic County Justice Facility on $50,000 bail.
In July, an anonymous call led to the arrest of Christopher Tolbert, 22, of Absecon, who was heading into Atlantic City from Pleasantville with a semiautomatic handgun and a loaded revolver. Tolbert's intentions were not clear, but one week earlier, his cousin - Saleem Tolbert, 26 - was shot to death in Atlantic City.
Mayor Jesse Tweedle and City Administrator Marvin Hopkins remain cautious about the progress Pleasantville has made as it approaches a month since the last reported shooting. But they are encouraged.
"We're not going backward," Tweedle said.
Behind the largest effort to involve the community was the Center of Deliverance & Empowerment, which planned seven vigils over eight nights held at locations across the city where gun violence had occurred.
"It let the community know we were serious about what we were doing," the center's Pressley said.
The church is in the process of planning a gun buyback, but is in need of support from sponsors to provide incentive items like gift cards. Pressley said he was prompted to act because he grew up in Pleasantville.
"That gave me a passion to go out there and do something," he said.
Contact Christopher Ramirez: