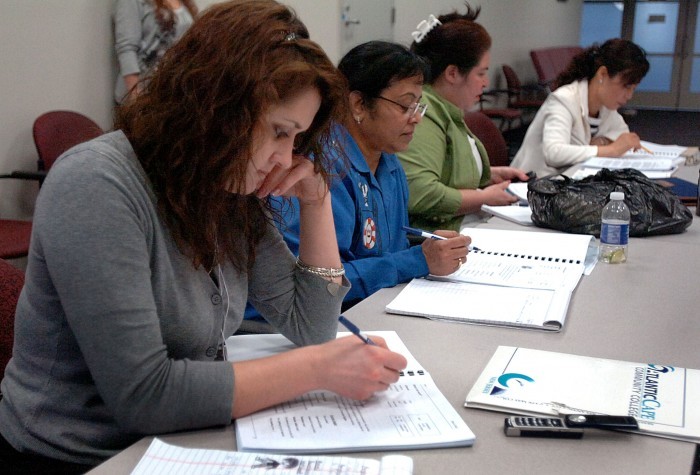 Melanie Prince of Newcastle, Del., pulled into the garage of the Trump Plaza Hotel and Casino on a recent visit to Atlantic City, and was surprised to find a $5 parking fee.
"We were trying to figure out why we had to pay the five bucks, and (the garage attendant) was trying to explain, but we didn't understand" because his accent was so thick, Prince said. They just paid.
Such encounters are common at Atlantic City's gaming halls, where many workers are immigrants and speak limited English. So the casinos are doing something to make sure that the immigrants who work for them can communicate effectively with their customers: Several are holding English as a Second Language classes for their employees, who often attend as part of their work shift.
An estimated 23 percent of Atlantic County residents age 5 or older speak a language other than English at home, according to the U.S. Census Bureau's American Community Survey of 2008. Slightly more than half of these speak Spanish. About 13 percent of the county's population was born outside of the United States or its territories.
In Atlantic City, where one in five casino workers lives, 39 percent don't speak English at home, 2009 census survey data show.
Casino managers say the investment in English training is worthwhile, as it helps the workers to provide better service, as well as have chances for advancement and skills to improve their daily lives.
Trump Entertainment runs seven to 10 English classes at any given time, for some of the estimated 25 percent of its workers who don't speak English as a first language, said Tom Hendrixson, the company's director of training and development. Atlantic Cape Community College provides the instructors for most of them.
The students come from about 50 different countries, which can be an advantage for the casino, Hendrixson said. While most customers are English-speaking, if a guest needs an interpreter, the casino can usually find someone who can help.
Hendrixson said he has heard of few complaints from guests who couldn't communicate with immigrant employees. All workers who interact with customers must speak English before they are hired. Some, such as housekeepers and environmental service workers, don't have to be fluent, but they must be able to answer basic questions.
The problem often comes not with failure to understand English, but with accents and inflection, Hendrixson said. So Trump Entertainment also has classes in pronunciation and accent reduction. There still can be problems, such as when a worker with an Indian accent tries to speak with a guest whose native language is Russian, Hendrixson said.
 There can be misunderstandings even when both people are native English speakers, such as someone from New York talking with a person from Australia.
Hendrixson said that once a customer stopped him on the casino floor and asked where the "nice" machine was. He replied that all the slot machines are "nice." But it turned out the customer was from New York and looking for an ATM, called NYCE machines in New York for New York Cash Exchange.
Michael Christian stood in front of about a dozen students in a room off the bus lobby at Bally's Atlantic City on April 12, and opened the text book to a picture of a human skeleton. How many parts of the body can they name, he asked the students, who hailed from at least six different countries.
Bhupendra Patel, who works in environmental services at the Showboat Casino Hotel, started rattling off the elbow, wrist, finger and thumb. The students turned to each other for help in spelling the named parts.
This was the advanced-level English class, which has been studying since June 2007, said Kathia Cruz, training and development coordinator for Harrah's Entertainment in Atlantic City. Like Trump Entertainment, Harrah's partners with ACCC to teach the classes, partially funded by a state Department of Labor grant.
Employees take the class during their work shift, and receive a basic rate of pay, Cruz said. Those who depend on tips are paid a special training rate.
 Sometimes it's hard to let a worker take 2 1/2 hours from the job to take the classes, but managers deal with it because they help prevent customer service suffering because of a language barrier, Cruz said. In fact, many of the students are referred to the class by a supervisor.
The students, who have since graduated, appreciated Harrah's efforts to teach them the language of their adopted country.
Patel, who ran an agricultural business in his native India, said he took the class to speak, listen and write better English. Sometimes he has to talk to customers who want directions, and has to call over another employee to help.
"I want to do more," Patel said. "This is not enough time."
Rohit Kamdar, a cashier at the Showboat, said he took the class to learn American English to provide customers with better service. In India, he studied British English, and the class has helped him understand more of what customers say.
"I know about customer service," Kamdar said, and he wants to make customers happy. "I know how to talk to customers nicely and politely and always give a smile."
Carmen Echeverria, an immigrant from El Salvador who works in room service at the Showboat, said she took the class to learn more English. Sometimes customers stop her to ask questions, and she wants to be able to help them.
"For my job, it's very, very necessary," Echeverria said.
Christian, an adjunct teacher at ACCC, said one of his biggest challenges is getting the students to speak in class. Many seem to know more English than they let on, but are embarrassed to talk. So he has to push them.
"It's the only way you're going to improve pronunciation and vocabulary, by using it," Christian said.
Another challenge is teaching students American idioms, Christian said. He spent part of one class explaining what "Give me a break" means, something difficult for a nonnative English speaker to grasp.
The classes are tailored to the employee's work situations and to everyday life, Cruz said.
"It also helps them outside the work environment, to go to their kid's school, interact with the doctor, or other things," she said.
Harrah's Entertainment, both in Atlantic City and around the country, is a company that prides itself in customer service and believes in training and developing its employees, said eastern division President Don Marrandino.
"Providing service means looking someone in the eye, smiling and providing them help," Marrandino said. "We want to hire people who are committed to service and want to take care of a customer."
Once the person is on board, Harrah's wants to do all it can to help them improve, both as an employee and a person, Marrandino said. That's one reason the company is committed to the English as a Second Language program.
"Obviously, you want to see people move up (in their careers), and helping someone who has broken, or hardly any, English is a career enhancer for them and gratifying for us," Marrandino said.
Marrandino estimated that more than 25 percent of the workers at Harrah's Entertainment's four Atlantic City casinos speak English as a second language, and it is important to the company to help them improve their skills and have a chance for promotion. 
Even if they stay in the same position, they often find they get better tips as their English improves, Marrandino said.
Before the recession hit, the casinos had plenty of vacancies and would hire anyone who could do the job, regardless of language skills, said Aura Orsono, who oversees the multilingual office for Local 54 of UNITE-HERE. They can learn English on the job.
But these days, the casinos can afford to be picky, and want people to speak and understand English when they are hired, Orsono said. That can make it quite difficult for workers, especially older people, to find a new job if they are laid off.
Workers who don't deal directly with the public don't need to speak English, as their supervisors can communicate with managers, Orsono said.
"They don't have to speak English to wash dishes. They don't have to speak English to clean rooms," she said. "I see a lot of housekeepers who don't speak English, and they do their job very well."
Gamblers interviewed on the Atlantic City Boardwalk in May had mixed feelings about the need for English-language instruction for casino workers. Some said they seldom had communication problems in the gaming halls.
But other visitors said the instruction is needed.
 "Sometimes you can't understand what they're saying (in a restaurant), and they mix up the order for the food," said Keena Carter, visiting from Virginia.
"They know English to the point where they can do their jobs," said Jeff Stein of Glassboro. But if he asks a housekeeper for directions, they often can't answer.
"You just can't understand them," said Donna Litton of Audubon, adding the English classes are a good idea. Twice at the Showboat, "I asked where the bathroom was, and I couldn't understand what they were saying."
She did eventually find someone to point out the way, Litton said.
Casino executives say the English classes are important, and they will go on, even in hard times.
The Atlantic City Hilton and Resorts Atlantic City have cut back on some training programs, but the English classes continue, albeit on a reduced scale, said Patty Rocco, vice president of human resources for the two casinos.
The casinos hire people who have some working knowledge of English, but the classes help them speak better, "so there's not that discomfort of trying to decipher or discern what they're really trying to say," to customers, Rocco said.
Rocco said she has attended graduation ceremonies for the English classes, and sees the changes in the employees.
"It brings a sense of personal pride and confidence you don't see coming out of other training programs," Rocco said. "It's just a moving experience to see how much it means to these people, and I think it gives them a better footing in life."