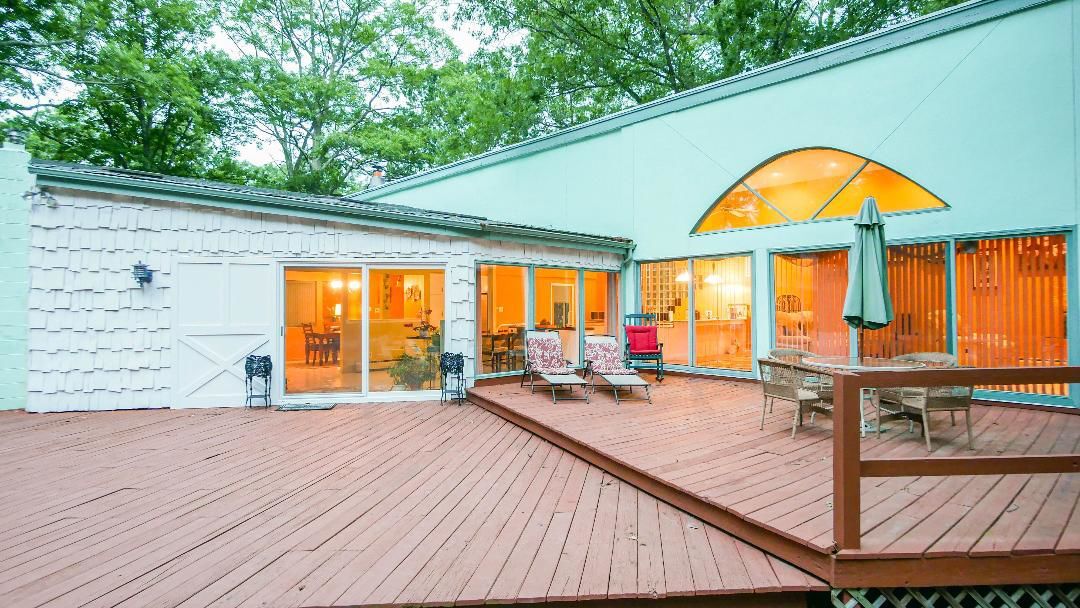 Viewed from the street, the mint-green home listed for $300,000 at 526 First Ave. in Galloway Township resembles numerous others built a few decades ago — although the elevated extension on one side with its long, semi-rectangular window might strike an observer as something of an unusual feature. That addition, however, which is actually just one facet of a far more elaborate remodeling process, should be a hint that this is anything but a conventional residence.
Just how unique, captivating and elegant — as well as expansive — a house this now is becomes evident as soon as one ventures beyond its otherwise ordinary-looking facade.
"The moment you walk in, you can't help but be impressed," says co-owner Sam Sardina. "What you see at first is definitely deceptive. But that's what makes it so special and such a conversation piece."
That "wow factor" was what first drew Sardina and his wife, Leanne McGiffin, to this particular property and prompted them to buy it in 2006 — and that was before they added a number of subsequent upgrades. The result is what they refer to as "modern contemporary" — that is, a combining of the "modern" styles of the 1970s, '80s and '90s with some of the latest and most forward-looking design elements.
What's perhaps the most striking aspect of this house is actually a combination of interior and exterior features — a colossal kitchen featuring a long, elaborate picnic table-type center island that overlooks an immense multilevel rear deck through two adjoining walls of floor-to-ceiling windows and sliding glass doors.
"You're just blown away by how big that kitchen and island are," Sardina says. And when the time comes that it is again considered safe to hold large gatherings, this indoor-outdoor focal point can offer an ideal venue for hosting such activities, making for "a great party house," as some of his visitors have put it.
But the humongous kitchen is just one aspect of the actual size of this home's interior, which encompasses about 3,000 square feet of floor space and a dozen rooms in all, including a larger-than-average living room and beautifully wood-paneled family room, four bedrooms (including an opulent master suite) and 3½ baths, with more than its share of rather interesting nooks and crannies.
That aforementioned annex is perhaps the most intriguingly idiosyncratic feature of the renovated residence. Accessible from both the inside and outside, it not only contains its own bedroom and a separate eat-in kitchen complete with a refrigerator, stove sink and cabinets, but a sizable finished basement that includes a laundry room, closet and a mini wine cellar with storage racks, and a top floor with a full bathroom, as well as a storage area. Although somewhat unconventional, the extension can thus be used to accommodate guests, the current owners having used it for that very purpose when a family member was staying with them.
The entire house is also elegantly embellished with aesthetic accessories and decorative design features, ranging from the wood-burning stove (unused, according to Sardina) with its own beautifully crafted stone veneer wall and ledge in the finished basement of the annex to an electric fireplace in the family room to a magnificent backsplash consisting of dozens of opaque blue-tinted glass panels behind the kitchen sink.
Then there's the exterior, which in addition to that tremendous deck, includes an in-ground swimming pool (albeit one that hasn't been used in a few years and may need some reconditioning), a long gravel driveway with plenty of room for parking leading to a detached garage in the back that can either be used to house one car or for storage, and nearly an acre of land with several tall shade trees in the front yard (including one surrounded by an exquisite arrangement of stones), and a fenced-in backyard bordered by woods.
The term "world class" is usually used to indicate a standard of excellence —the best of the…
Among the other amenities that come with the house are central air, gas heat, city water and sewer (a big plus for a home in a semi-rural setting), a utility closet with another washer and dryer, and a full contingent of high-end kitchen appliances, including a Maytag stainless steel refrigerator, a JennAir electric oven and a GE Profile electric range. In addition, the furnishings are negotiable should a buyer be interested in purchasing them.
Sardina describes the neighborhood as beautiful, friendly, safe and convenient, with both a ShopRite and Absegami High School only five minutes away, as well as a short drive to the Atlantic City Boardwalk, beaches, restaurants and casinos.
"We've had a lot of good times in this home," he adds, and have only now decided to sell it because "it's just too much house for two adults and two dogs."
But if this unique property sounds like it might be a good fit for your family and your lifestyle, the listing agent to get in touch with and arrange for a tour is Albert Casalnova at 609-338-9588 or closestar@aol.com.