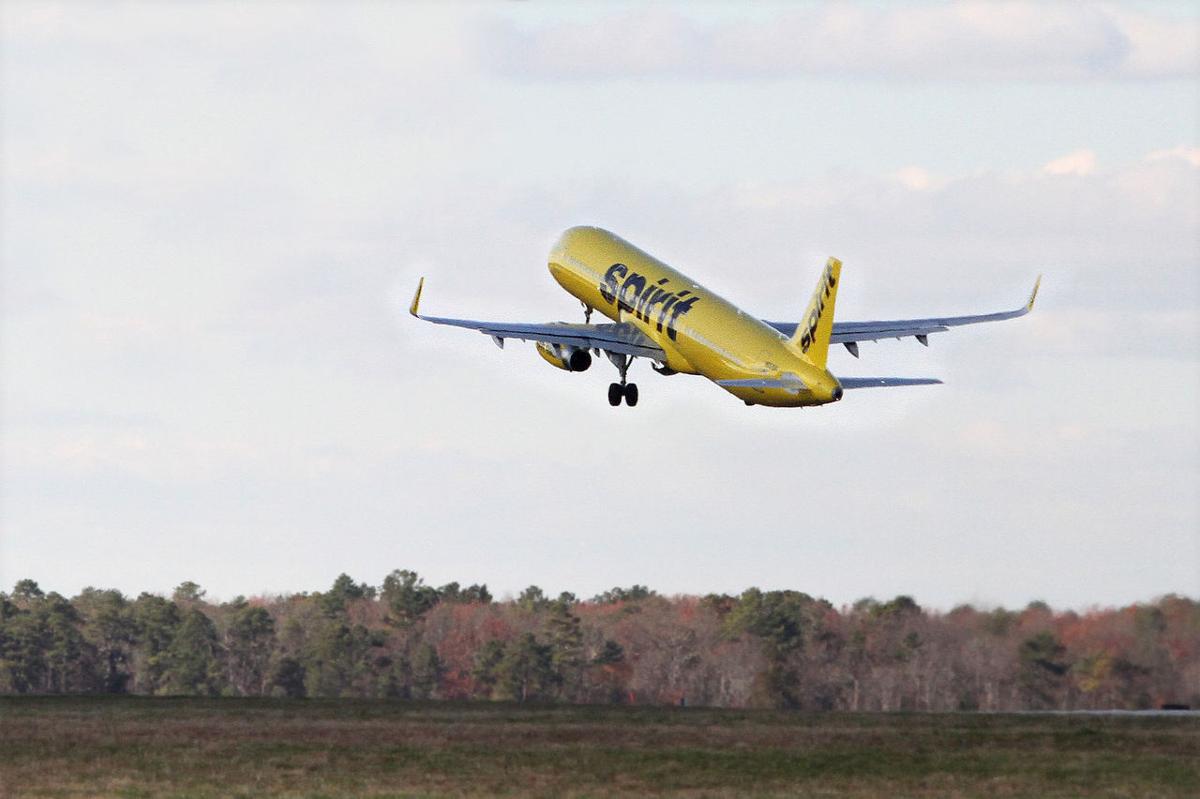 Spirit Airlines is working on a new schedule for October, when furloughs of about 59 workers at Atlantic City International Airport will impact its service, a spokesman said Friday.
He said flights will continue, but the number is not yet known.
Spirit is the only carrier servicing ACY, so its plans will greatly affect the airport.
The South Jersey Transportation Authority, which owns the airport, declined to comment on how it will be affected and directed all questions to Spirit.
In his July 15 report to the SJTA board, Executive Director Stephen Dougherty said 301,000 passengers used the airport this year from January through June, down a little more than 50% from the same period last year.
Spirit Airlines filed a WARN notice Wednesday with the state Department of Labor, stating it…
In June, 25,000 passengers used the airport, a decrease of 70.3% compared to June 2019, Dougherty said.
Airport parking revenue was $1.9 million year-to-date, down 46.3% from the same period last year and down 62.6% for the month of June, he said.
The airline's August and September schedules are posted on its website and are expected to remain unchanged, the spokesman said.
Spirit filed a WARN notice Wednesday with the state Department of Labor, stating it intends to furlough 23 flight attendants and 36 pilots at ACY from Oct. 1, 2020, to May 1, 2021, as a result of the ongoing COVID-19 pandemic.
"Spirit Airlines has delivered notice to its unions that approximately 20%-30% of our pilots, flight attendants, dispatchers, guest service agents and ramp agents will be furloughed in October," according to a company statement issued Friday.
A Miami-based start-up charter airline has signed a deal to operate out of Atlantic City Int…
It said the company would continue to look for ways to reduce the number of furloughs as October approaches.
"Spirit's cost structure and focus on leisure travel should allow us to recover quickly when demand for air travel increases. We look forward to bringing our team members back to work as soon as possible," the statement said.
The WARN notice said similar layoffs will happen at all of its crew bases because of "the rapid increase of the COVID-19 coronavirus and its recent resurgence in large parts of the country served by the company, extensions of shelter-at-home guidance, the slowing and reversal of reopening plans, and the recent expansion of quarantines on travelers."
The Spirit spokesman stressed that airlines around the nation are taking similar steps.
Last month, United Airlines issued layoff warnings for 36,000 employees, and it warned pilots last week of possible additional job losses this year and next. American Airlines notified 25,000 workers they could be furloughed in October, when billions in federal money to help cover payroll costs expires.
Spirit is based in Florida, one of the hardest-hit states by the virus in recent months. The airline flies to several locations in Florida as well as to Myrtle Beach, South Carolina, and Atlanta from Atlantic City International.
In its second-quarter report issued July 22, Spirit reported total operating revenue of $138.5 million, a decrease of more than 86% from the second quarter of 2019, "due to the significant decline in air travel demand as a result of the COVID-19 pandemic."
The airline is estimating its third quarter capacity will be down 32% year over year, according to the second-quarter report.
The Associated Press contributed to this report.
Contact: 609-272-7219
Twitter @MichelleBPost
The business news you need
With a weekly newsletter looking back at local history.