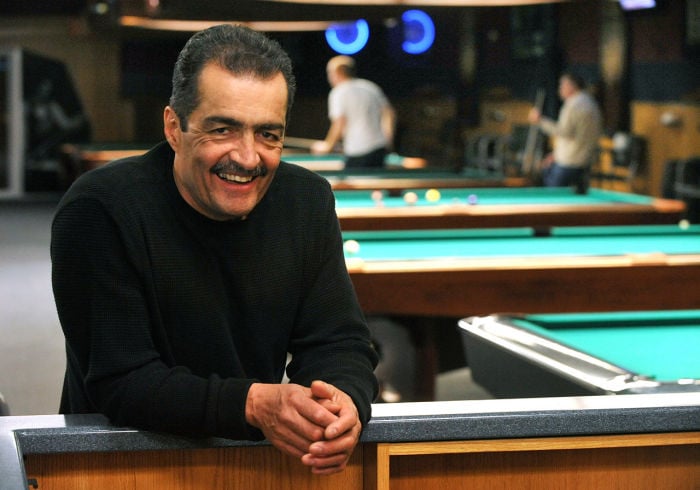 VINELAND — Jose Garcia owns what he calls an "old-school poolroom."
But shake away any images of darkly lit rooms and a beer swigging, music blaring atmosphere.
There's none of that at Q Ball Billiards on Landis Avenue, a 50-year-old pool hall where Garcia — a professional player for 30 years — got his start at age 9.
"We run this like it's a church in here," Garcia said on a recent weekday afternoon, as a few groups of regular players shuffled in. "I tell these guys all I need is some pews and a cross out front and we're a church. This is the way it's always been with the previous owner. He laid the groundwork on how it's supposed to be, and that's the way I kept it."
This means Garcia does not permit BYOB, loud music or cursing.
The hall of 17 meticulous Brunswick Gold Crown 4 tables has bright lights and a crisp appearance little changed from when the pool hall opened in 1963.
The equipment is modern, but the layout is the same — with the tables, lights, chairs and wall racks all in the same place, said Garcia, 58, who lives above the business.
"I could probably make more money if I wanted to be a little more out of control with juke boxes and bring your own beer and stuff, but I don't want that. That's not what this is all about," he said.
Garcia started going to the Vineland pool hall, which had been owned by Frank "Zip" DiOrio, in 1965. He started working there in 1976 and bought the business in 1987.
In some ways, this is a tough time for the billiards industry as a whole.
Garcia estimates South Jersey lost many of its pool halls in the past 15 years. The competition in the industry, Garcia said, is not among billiard halls but among what people do with their spare time. And fewer younger people are taking up the game, he said.
Garcia said he benefits from owning his building rather than paying rent, and he has a steady base of customers.
His standing and reputation as a professional pool player also helps.
"To be successful in this business, you have to know a lot about the game itself … you have to be able to repair things, tables and sticks. You have to know all the rules of every game off the top of your head," he said. "If they have a problem with their game, you should be able to tell them what they're doing wrong and doing right."
As with other industries, the billiards business is cyclical, going through highs and lows that can affect business 10 percent to 20 percent a year, he said.
Billiards was just emerging from one of those slow times when Garcia bought Q Ball Billiards.
Then he and other pool halls got some help from Hollywood.
"The best time in this business was when 'The Color of Money' came out. Everybody wanted to be Tom Cruise, and it was packed all the time. We all rode the wave for a couple of years, but then it died out," he said. "We need a new movie. I think the economy is recovering and getting better, and that will help."
Garrett Bell, 33, of Bridgeton, picked up pool about 10 years ago. Bell said he likes the condition of the tables and the cleanliness of the place.
"It gives me a good something to do, away from work and the normal life," he said.
Charles Griffin, 66, of Buena, was shooting pool on a recent weekday.
"This is a great environment. For me, it's almost like a club. I know most of the people," he said.
While the interior of the billiards hall might resemble its former self 50 years ago, the outside underwent significant changes about five years ago as part of Vineland's facade program in the city's Urban Enterprise Zone.
Garcia said the new exterior helped make the 5,700-square-foot building look on the outside what it was like on the inside.
"People tend to think pool rooms are shady, that there's gambling and cussing and all that stuff going on and they might not want to come in," he said. "Having the exterior look nice kind of breaks the ice."