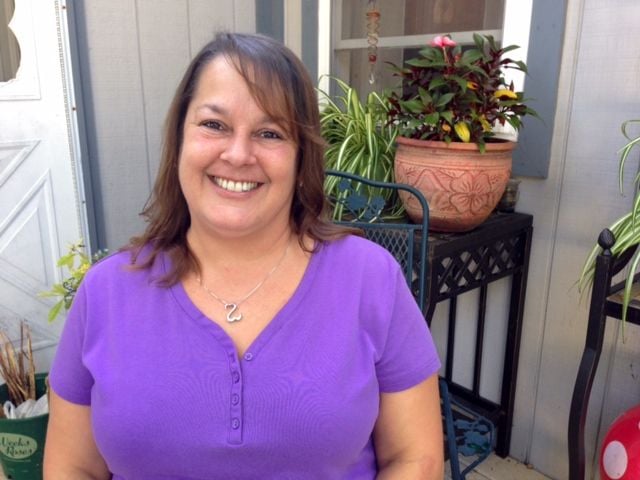 Gina Derby, of Hammonton, had read about U.S. Postal Service worker Maureen Buscher, who lost her legs above the knee and her sight after a drunken driver hit her as she loaded mail into her truck in Ventnor in 2006.
So when Derby was assigned Buscher's case on her first job as a newly trained Bayada Home Health Care aide about four years ago, she was more than enthusiastic.
"I had followed her story and always thought about her," said Derby. "It's been a dream come true to work for her."
Derby won the 2014 Bayada Home Health Care Home Health Aide Hero of the Year award for her work with Buscher, of Williamstown in Gloucester County, whom she calls "Reen." Derby was chosen from more than 19,000 other Bayada workers nationwide and honored at a May ceremony in Charlotte, North Carolina.
Buscher, whose last name was DePrince when the accident happened, said Derby is like a sister.
"She has been instrumental with me losing weight and to help me walk again," said Buscher, who had faced a gradual weight gain that eventually prevented her from fitting into her prosthetic legs. "She's just a wonderful person."
Buscher said she lost 65 pounds on Weight Watchers after Derby helped her get a special computer for the blind, helped her increase her physical therapy and made sure the four other aides on her team were on board with her new diet and tracking her progress.
They have gone on cruises together, said Derby, 49. In fact, they raced Hurricane Sandy back to Baltimore from a cruise in the Carribbean, beating the storm by two days.
"We have a great time. We laugh every day," said Derby. "Reen is an amazing person and an inspiration to me. She's my hero, and I'm hers."
Derby changed careers in her mid-40s, after being a single mom for 11 years and supporting her three children with her own cleaning business.
Now, Derby is married to husband Bill. Her three children are young adults, Richard Stockton College student Kristie Aaron, 21; Rutgers University graduate Ashley Aaron, 22, a personal trainer at Tilton Fitness; and Ken Aaron, 23, a computer security student at Atlantic Cape Community College.
"I love gettting up and going to work for her," Derby said of Buscher. "For once in my life, I can say I love my job. At age 45, I found out where I'm supposed to be."
Lawyer Ellen Nicholson Byrne, of Sea Isle City, joined Atlantic Cape Community College's Board of Trustees Sept. 23 at the Mays Landing campus. Byrne, a Cape May County freeholder appointee who replaces Robert Boyer, of the Villas section of Lower Township, is also the part-time public defender for Sea Isle and the former solicitor to the city's Zoning Board of Adjustment.
On Sept. 11, Aviation Boatswain's Mate Second Class Jennifer Woznick re-enlisted for six more years with the U.S. Navy at the Naval Air Station Wildwood Aviation Museum at the Cape May Airport.
Woznick, who is stationed at Lakewood, began her enlisted naval career Sept. 11, 2007, working first on ships but now in aviation. Attending were museum Chariman Joseph Salvatore and Jennifer's father, Naval Construction Mechanic Second Class Timothy Woznick, along with Jennifer's grandmother Patricia Carlson, and other friends and family members.
Contact Michelle Brunetti Post:
@MichelleBPost on Twitter