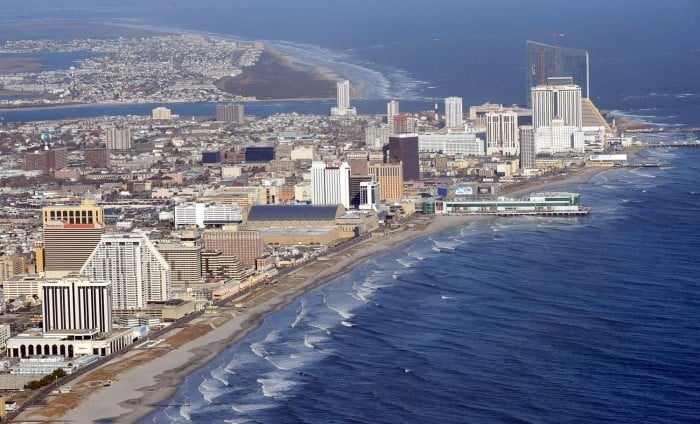 The number of visitors to Atlantic City fell in 2013, reflecting the eighth straight year of declines in a resort town that depends on tourists and casino gamblers for its livelihood.
Overall, there were 26.7 million visitor trips last year, down 2 percent from the 27.2 million in 2012, according to figures released by the Lloyd D. Levenson Institute of Gaming, Hospitality and Tourism at the Richard Stockton College of New Jersey. Atlantic City's visitor numbers peaked at nearly 35 million in 2005 and have declined every year since then.
One analyst said that while visitation is down overall, including a drop in casino business, the figures indicate that tourists are still enjoying the city's restaurants, entertainment and other nongambling attractions.
"There are still plenty of visitors coming here. They are spending somewhat less in the casinos, but are spending more on other amenities when they come," said Israel Posner, executive director of the Levenson Institute.
The term "visitor trips" used by the Levenson Institute reflects overall visitation to Atlantic City, not the number of individual tourists. The tourism market is made up of a core of repeat visitors estimated at somewhere between 4 million and 5 million, Posner said.
"There's no way to know for sure how many unique visitors there are," he said, referring to individual tourists.
A study conducted in January by the Levenson Institute and the Stockton Polling Institute found that many of Atlantic City's casino visitors come from New Jersey, particularly along the Garden State Parkway corridor. Posner said. Ocean County led the way, accounting for 12 percent of the visitors. Atlantic, Monmouth and Middlesex counties contributed 10 percent each. Essex and Bergen counties represented 7 percent each and Camden County 6 percent, the poll showed.
The downward trend in visitor trips mirrors the continuing decline in revenue at the casino slot machines and table games. In 2013, the casinos won $2.86 billion from their customers, down 6 percent from 2012. Atlantic City gambling revenue has fallen seven consecutive years amid intense competition from casinos in surrounding states.
Atlantic City continues to be dominated by visitors arriving by auto and bus. The Atlantic City Expressway carries about 40 percent of the inbound highway traffic, while the Route 30 and Route 40 corridors collectively account for about 60 percent, Posner said.
The number of travelers arriving by casino bus, air and rail declined in 2013. Posner and other analysts have blamed casino competition in other states and the lingering effects of Hurricane Sandy for driving down arrivals at Atlantic City International Airport.
Overall, the airport carried 1.1 million passengers on scheduled flights and charters in 2013, an 18 percent drop compared to nearly 1.4 million passengers in 2012.
Air travel represents the greatest potential for growth in the city's overnight tourist market, Posner said. Atlantic City International currently is served by only one scheduled carrier, Spirit Airlines. However, United Airlines is launching daily flights to Atlantic City from its Chicago and Houston hubs beginning April 1.
"Arrivals via air represent a very different value to Atlantic City than an arrival via the road or other modes of travel," Posner said. "Air arrivals are much more likely to stay longer and spend more money."
Meanwhile, the number of passengers traveling on casino buses fell 18 percent in 2013, to 2.1 million. Casinos have been cutting back on bus passengers in recent years to concentrate their marketing and promotional programs on wealthier customers arriving by car.
Rail passengers were down nearly 5 percent in 2013. NJ Transit's commuter rail line, which links Atlantic City with Philadelphia, carried about 1.25 million passengers last year, compared to 1.3 million in 2012, figures show.
Contact Donald Wittkowski: