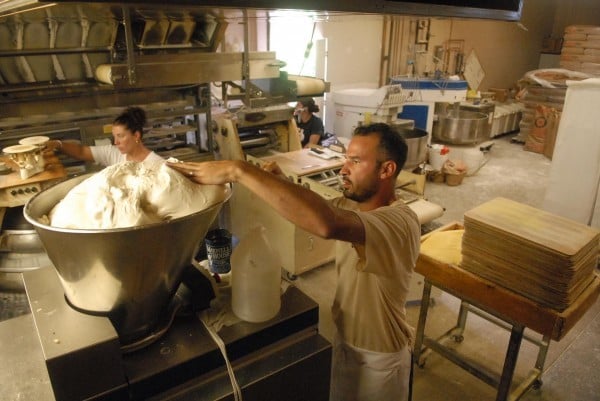 ATLANTIC CITY - Newcomers stepping inside A. Rando Bakery are overcome by sensory overload. There's no escaping the heat. Two oversize ovens are cranked to 425 degrees Fahrenheit and the little air that circulates doesn't keep the place cool.
The sauna-like atmosphere is rivaled only by the smell of baking bread. Tangy and sweet. The crust looks as rough as sandpaper, but the inside is white and poofy. Six hundred rolls are pulled out of the ovens in one hour.
"It has a lot to do with the salt air," Anthony Rando Jr., the operations manager, said of his product's distinct taste. "It helps the dough raise much differently than if you were going to make the bread in Philly or wherever. A lot of people say it's the water, but I believe it has to do with the climate."
In spite of the water vs. climate debate, A. Rando Bakery can be certain of this much: Customers are still loyal after all these years. In fact, for the past 100 years - the Mississippi Avenue bakery was founded in 1909.
On a recent morning, there was no fanfare regarding the bakery and its place in Atlantic City's culinary history, especially in this once predominantly Italian neighborhood known as Ducktown. Instead, members of the Rando family and bakery employees were simply working. Taking orders. Stocking the inventory. Some had been there since about 2 a.m.
By day's end, the bread they were making would wind up consumed by restaurant diners, sub shop enthusiasts and by families at dinnertime.
"We go on because everybody has to eat," Anthony Rando Jr. said.
At one time, there were four dominant bread bakeries in Ducktown. But two of them, Raco's Italian Bakery and Atlantic City Italian, met their demise several years ago.
Still remaining is A. Rando Bakery, a wholesale outlet, and Formica Brothers, located just around the corner on Arctic Avenue.
Anthony Rando Jr. said the two remain competitive but there's no bad bread between them.
"It's healthy competition," he added. "The one thing my grandfather always instituted in us is you never go out and take customers from other bakers. He would always want the customer to come to us. If he went out and undercut another bakery, promised people stuff that he couldn't fulfill, then he wasn't being honest with himself."
Anthony Rando Jr. is the fourth generation of bakery operators. Also running the shop are his uncle, Stephen Rando, and his aunts, Joann Fairfield and Donna Rando-Gracco. Donna's daughter, Nicole, recently moved back from Florida to help out with the family business, too.
The bakery's roots go back to Anthony Rando Jr.'s great-grandfather, also named Anthony. He emigrated from Italy around 1908, passing through Ellis Island and settling in Atlantic City. He was a baker in his home country and with his wife, Candalora, they continued the tradition here and passed it down to their children, who passed it down to their children.
A. Rando Bakery through the years has remained on Mississippi Avenue, although at various locations. The family's old home was torn down two years ago.
Aside from family ownership, another bakery constant are the ingredients: flour, yeast, water, salt. The bakery churns out sub rolls, pizza dough, kaiser rolls and "par-baked" products.
The par-baked bread is new to the business. It's essentially bread that is half-baked: The dough has already risen and can be shipped anywhere, but the customer buying it must still bake it in an oven.
The item is most popular with out-of-state customers, such as Mitch Levy, who runs a sub shop in St. Augustine, Fla., called South A Philly.
Levy, a Philadelphia transplant whose family had a home in Atlantic City, was first introduced to A. Rando Bakery last year. He used to frequent the White House Sub Shop, and when he thought about opening a similar business last fall, he wanted to get the same bread the White House does.
"Nobody makes bread like in Atlantic City," Levy said in a telephone interview. "There's a lot of people from Philadelphia and the area down here, and once they find out where I get my bread, they flock."
Levy orders as many as 560 rolls per week.
A. Rando Bakery regularly ships to Florida and other states where Atlantic City-made bread would be unexpected, such as Kentucky, said Stephen Rando.
Meanwhile, business with the casinos has been down because many are opting to use their in-house bakeries to save money.
Last year, the bakery was forced to cut costs because of the rising price of flour. The business uses about 4,600 pounds per week. In the winter, the cost of a 100-pound bag was about $50, although now, it has dropped down to $25.75, Anthony Rando Jr. said.
Michelle Evans has worked at the bakery for more than 25 years.
"I make the fancy bread," she said after taking sections of dough and making a braid out of it.
She is not a family member, but says she feels a kinship with the Randos and the other employees. Each morning, she catches a train from Camden County to work at the bakery during the summer. When asked if she thought about retiring, she scoffed at the idea.
"Why?" she said unfazed by the heat of the ovens. "This is a blast."