I first came to Atlantic City as a kid in the 1980s. Being the son of two teachers, my parents would take my brother and me to A.C. at least once a year in November so they could check out the NJEA Teachers' Convention. Back then, if we wanted go head out for a bite, the nicest options in town were either gaudy, brass-drenched/Trump-owned casino restaurants with names like "Ivana's," or old-school local spots that felt unwelcoming to out-of-towners like us. It was a city that seemed to have a set of standards that few deviated from.
Atlantic City in the 1980s would never have had a spot like The Iron Room.
For those who have never been, The Iron Room is a not-so-hidden speakeasy located on the edge of town across from the former home of The Atlantic City Surf. The dimly lit bar is classy and elegant with leather chairs and crimson walls — a perfect spot for drinks with a date. It sits attached to the AC Bottle Company, and both are owned by Mark Callazzo, an entrepreneur who is in the process of making Atlantic City great again by taking on endeavors like the Tennessee Avenue Project, as well as various real estate development deals. But what Callazzo and crew have done at The Iron Room is create a bar that manages to hit the trifecta when it comes to alcoholic beverages. They are known for great beers, great wines and great cocktails. That may sound like the responsibility of any good bar, and it may be, but most fall short in one or more-than-one of those categories. Pair with that the fact that they have one of A.C.'s most talented and creative chefs, Kevin Cronin, manning the kitchen, and you have a spot that is more than worth the ride.
The Wildwoods' annual Irish Fall Festival is by no means a small affair. The "largest Irish …
I popped in on a Sunday evening with a few of the more sociable members of my family in tow. We were in the mood for a few drinks and hadn't eaten dinner yet. Plus, I had heard about The Iron Room's current Sunday deal offering $2 tacos from 3 to 6:30 p.m., so it all seemed like a good idea. And it was.
The room was not particularly crowded, but the atmosphere was welcoming and noticeably un-stuffy for a place like this. Speakeasies in the 21st century tend to have a "too cool for school" vibe, but luckily that was absent. The staff was laid-back and friendly, and the music — a mix of classic Motown tracks with the occasional rock song thrown in — really helped us unwind. At one point I attempted to vocally match Smokey Robinson's high note in "Ooh Baby Baby," and this was before the drinks even came. Clearly, none of us were feeling put out in any way.
The cocktail menu at The Iron Room is on point, and I made a bee line for it. One of the downsides to being a tequila drinker is that often the only tequila drinks you can find are margaritas. Now, don't get me wrong, I love nothing more than a well-made margarita, but I always appreciate when a bar finds other ways to incorporate this spirit into its drinks. I started things off with The Storm Queen, a magnificent cocktail that combines tequila, creme de violet, lime juice, simple syrup and the most interesting aspect — a mezcal wash. What is a mezcal wash exactly? Glad you asked. It's a technique that involves pre-chilling the cocktail glass then swirling in mezcal in order to coat the inside and add additional aroma to the drink. It's exactly the kind of outside-the-box shenanigans that The Iron Room is known for, and it made this drink just about perfect.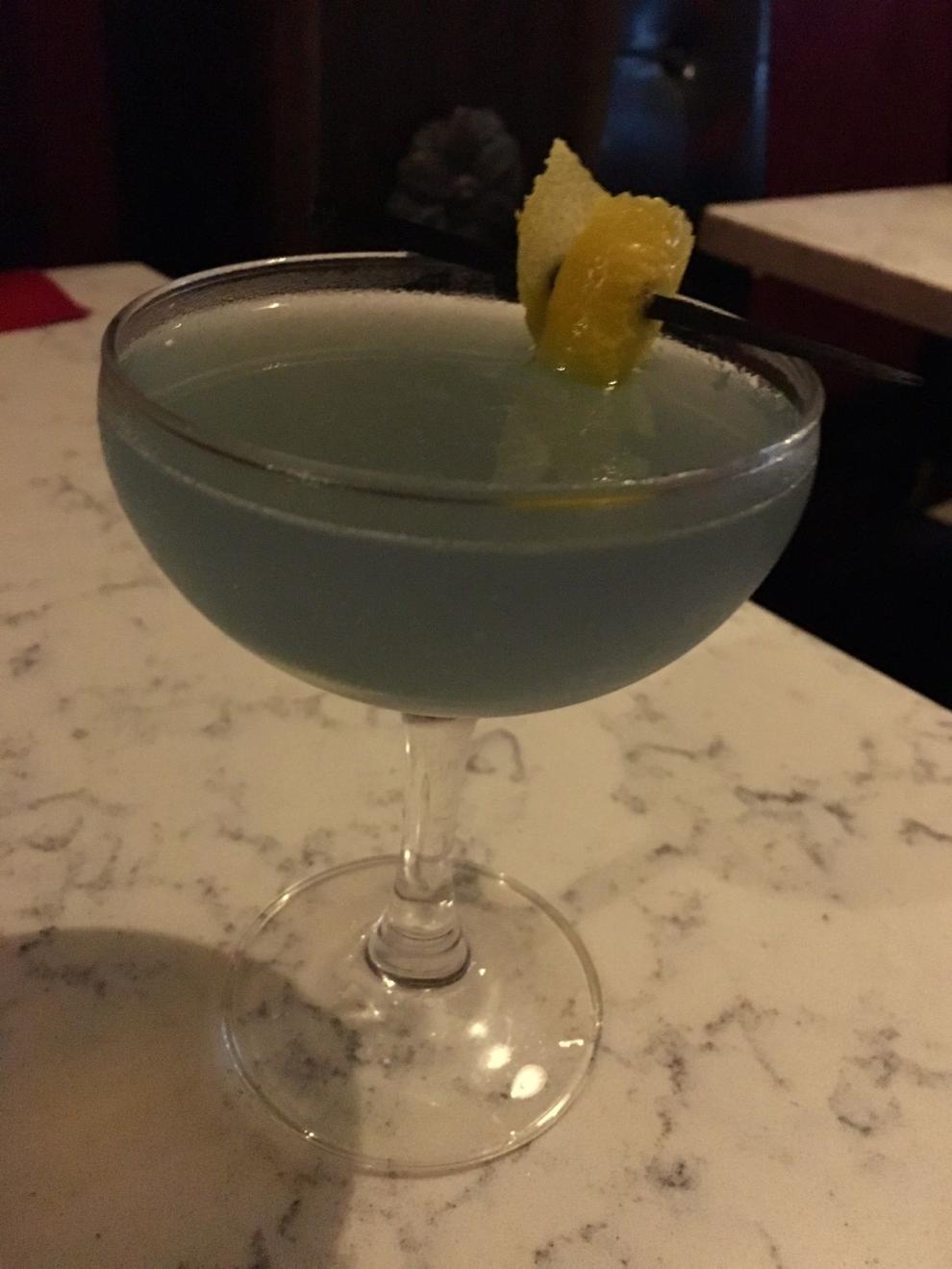 In all we sampled four cocktails. Each were well-balanced and creative, utilizing ingredients most bartenders wouldn't have a clue of what to do with. The "15 Minutes With Morrissey" scored points with me right off the bat for name checking one of my all time favorite singers, and so I couldn't say no. Its blend of Barr Hill Gin, cranberry honey syrup and lemon was neither too sweet nor too tart, sitting somewhere in between, with each of the flavors complementing the gin perfectly. It came served in a coffee mug emblazoned with a very subtle, yet certain reference to a Morrissey quote from the song "Reel Around The Fountain." Other highlights included the Shooter McGavin — another gin-based drink that somehow worked English breakfast tea honey syrup into its list of ingredients (along with lemon, lime and club soda) for another home run, and the equally amusingly-named "Kathleen Turner Overdrive," which featured gin, aloe vera liqueur, lime, cucumber water and cracked pepper. How many places even have aloe vera liqueur behind the bar, much less find a smart way of utilizing it in a cocktail? Not many.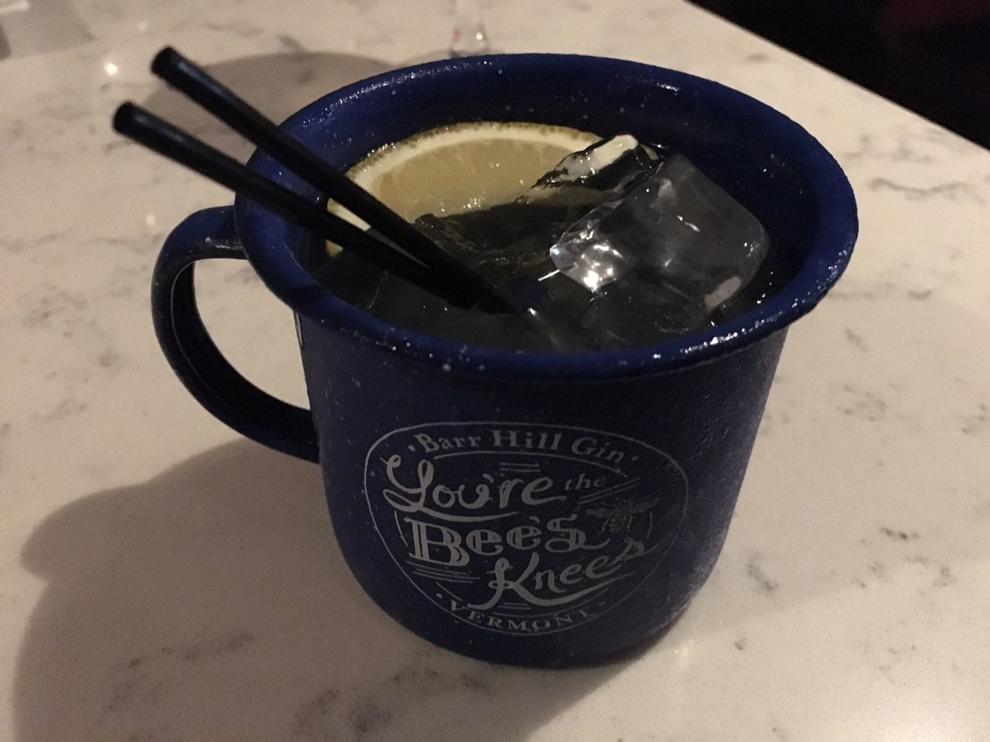 With our whistles adequately wet, we began to explore the finer points of The Iron Room's bar menu. The tacos being only $2, we decided to start with a round of those. Most places that offer cheap taco deals will serve you a sad, uninspired versions that often border on Old El Paso territory, so I was pleased to see that Chef Cronin's options were as creative and exciting as I would have expected. They offer pulled pork, vegan and fish varieties, as well, but in the end we went with the short rib tacos, which came topped with miso Greek yogurt, scallions, serrano chilis and Thai basil. The flavor profile was incredible. The heat of the serranos perfectly dialed back by the cool touch of the Greek yogurt and was nicely rounded out by the basil. The fact that these are being served for prices that can compete with the McDonald's across the street is unreal and almost comical.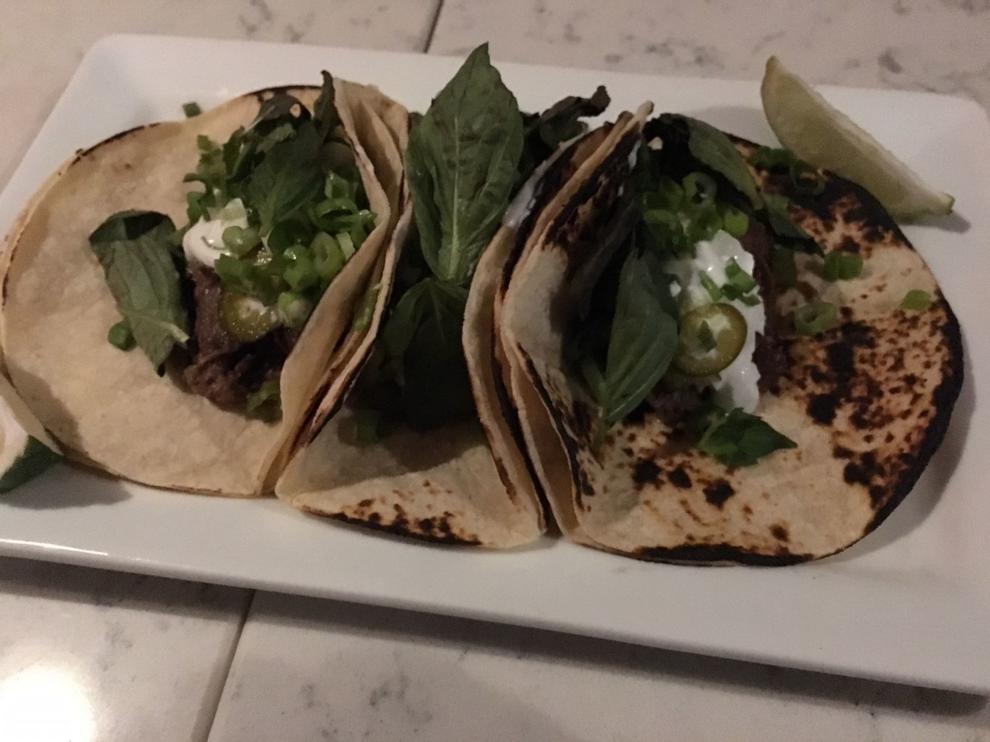 We also sampled the bahn mi, (a Vietnamese style sandwich with smoked ham and liverwurst), the flat iron burger (an amazingly tasty burger topped with goat cheese and thick cut bacon on a brioche bun), chicharonnes tico (deep fried pork belly with fresh lime and salt), smashed avocado toast (sourdough with avocado, hot house tomatoes, grated cheese sea salt and olive oil), and, of course, Chef Cronin's legendary udon mac and cheese, a dish that is so good it's simply beyond description. Not one miss in the whole bunch.
For those who follow my monthly column, you may recall that I started the year off with a pi…
With so many things going right, I circled back and ordered another tequila drink just for fun. This time I went with the Adios Pantolones, which included house made pom punch, orange liqueur, lime and tonic. A fine drink on its own, but for my money, I'll stick with the Storm Queen.
We wandered out with our thirst quenched, our stomachs full and our ride home filled with chatter about when we would be making a return trip to The Iron Room. One thing was certain — it sure beats Ivana's.