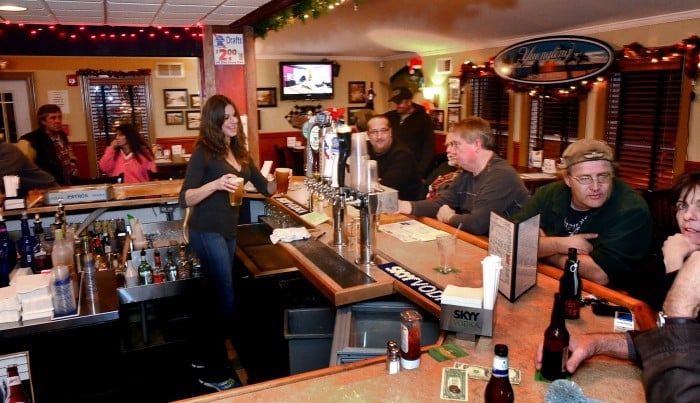 Finding an open bar in the middle of Upper Township is like locating the Holy Grail. The area covers about 68 square miles and, unless you know where to look, there is nary a bar to be found. While there are a few liquor licenses, most are used on Roosevelt Boulevard on the way to Ocean City. What's a beer drinker to do but head to a nearby island?
For those who'd like to keep their drinks to the mainland, we suggest Levari's Seafood & American Grill.
Levari's sits alone at the intersection of Route 50 and Tuckahoe Road. While it gets its fair share of summer customers, courtesy of shore traffic, the bar is most definitely not a beach bar. A classic tavern, Levari's is a comfortable place, filled with the lively banter of people who know one another. One of those people is Dave Levari, who purchased the former Triton Tavern in 2008 and transformed it into the place it is today. Levari has put his heart and soul into the place. A builder and businessman, he's always making improvements, from updating paint jobs to installing a waterfall in the bar's outdoor space.
Without question, Levari's has an all-encompassing appeal. From crossfit trainers to state troopers, you'll find young, old, and everything in between inside.
Levari's is just hopping aboard the craft beer craze, and the timing couldn't be better. With warm weather just around the corner, a gorgeous day on the backyard patio will be a whole lot better with a Double Nickel Pilsner or Kona Big Wave Golden Ale. Prices aren't bad, either. Drafts range from $2 PBRs to $5.50 for craft beers with everything else falling somewhere in between.
If you're looking for something to soak up those suds, look no further than the legendary chicken tenders ($9.99). Sure, you can get the usual mild, medium or spicy tenders, but the specialty flavors — whiskey BBQ, teriyaki, garlic, or my personal favorite, Old Bay — take things up a notch. The housemade BBQ pulled pork sandwich ($9.99) is another fan favorite. Get it with the long hots and sharp cheese for an added bite.
Levari's has food and drink specials most weekdays, but the newest one — Microbrew & BBQ Mondays with craft beers priced at $4— rolls out this month. Live music also returns in April — the popular Danny Eyer Band will kick things off at 7 p.m. Friday, April 8, and Mike Fairhurst finishes off the weekend with his show
Where: Route 50 and Tuckahoe
When: Open 10 a.m. to midnight daily
Who: Owned by David Levari
Other info: All major credit cards accepted, disabled accessible, on-site parking, takeout available. ATM, jukebox, and package goods store on premises.
Associate Editor, At The Shore/ACWeekly