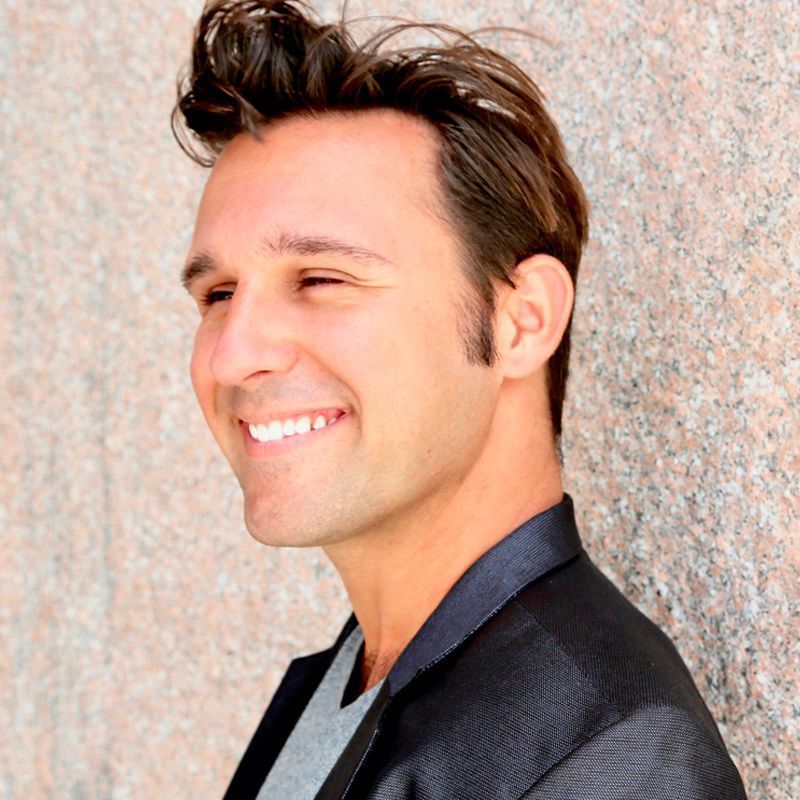 It was those occasional after-school outings with his grandmother that eventually made Nicolas King realize his life was just a little different than his friends.
"Most kids, when they go to grandma's house after school, maybe they play some games, they have a piece of pie, watch some TV, they just hang out," King recalls of his childhood, which really wasn't so long ago – he's only in his late-20s.
"My grandmother would plop me in the back seat of her car and drive me to a gig," he adds. "And so I sort of grew up hanging out with grandma after school on the bandstand listening to music."
King's grandmother is singer Angela Bacari, who was a regular on the New York City nightclub circuit as an opening act for comedians like Don Rickles, Rodney Dangerfield and Bill Cosby.
While he can't be sure, Bacari likely performed in Atlantic City with one of those performers in the early 1980s, when headliners would often travel with an opening act rather than let the venue book the curtain-raiser.
So King will likely be treading on some familiar boards – well, familiar to King's DNA – when he makes his Atlantic City debut at Resorts Casino Hotel's Superstar Theatre 8 p.m. Tuesday, Jan. 7. It's quite possible Bacari worked that same stage a decade before her grandson was born.
King was one of those kids so talented from the very start that the phrase "born to do it" comes to mind. He was surrounded by music from the day he was born.
"My father, my uncles, just about everyone in my family was a musician or was musically inclined," he says. "So I don't know that I had much of a choice in the matter. It was just sort of something that happened naturally."
He began working professionally at age 4 and was first seen on Broadway in "Beauty & the Beast." He followed that in 2001 with a role in "A Thousand Clowns," where he played opposite actor Tom Selleck, who'd earned his trip to the Great White Way stage through his eight-year starring run as TV detective "Magnum, P.I."
King still wasn't 10-years-old when he appeared in the Broadway play "Hollywood Arms," an original work by Carol Burnett and her daughter Carrie Hamilton, who died of cancer before the play made it to the stage.
King worked with a cast that included TV and stage star Linda Lavin. Despite being directed by 21-time Tony Award-winning legend Hal Prince, the show ran for just 72 performances. Prince died last summer.
As he prepared to broaden his acting and music career, King began adding more elements to his repertoire.
So enamored was Liza Minnelli of the little boy with the big voice that she gathered him under her wing, became his mentor and took him on the road as her opening act.
"I actually don't remember a time when I wasn't singing or performing. No matter where I was, I was putting on a concert," he reflects. "If I found a hair brush or a remote control, it became my microphone. If I found a sidewalk or any other landing, it would become my stage. So at about 2- or 3-years-old, I was doing concerts for thousands of people in my head. (Then) I learned how to translate that into a way to do it for a living."
After his last Broadway show closed, King – then a teenager – discovered how challenging it was to find parts for young men his age who are vertically challenged.
"I was making the audition rounds (and) I was finding that in my late teens, it was hard to find work for people my age and in my demographic," he explains. "I'm a little guy, I'm Italian, and with my height genetics … I top out at about 5-feet-2. So the roles that become available for someone of that age are few and very, very far between."
Since he was known as more of an actor than a singer, he decided to see where his vocal prowess might take him. As luck and fate would have it, it took him to meet legendary jazz pianist Mike Renzi, whose reputation in the business preceded him.
Among his credits: music director for a couple of other music legends, Peggy Lee and Mel Tormé, and piano teacher to Diana Krall.
"I knew that I could carry a tune, so I figured let me put my mind into something that I can do. This way I'm not waiting around for auditions," says King.
King was just 17 when he and Renzi connected.
"He really got me down the rabbit hole of exploring jazz as an art form. And that's what we've been doing for the last decade or so," King says. "We've done two records together, and we've traveled all over the country performing."
King isn't quitting acting for music though; he's just giving it a rest.
"I love acting, I love performing, I miss Broadway, but I'm certainly not gonna get bored," he says with a light laugh. "I've really been plowing ahead and exploring the nooks and crannies that music has to offer."
For his Atlantic City debut, he's preparing a set that includes everything from a Broadway tribute to director Prince, to some jazz-pop-crossover material. And, naturally, something from The Four Seasons.
Not Vivaldi's iconic classical violin concerti "The Four Seasons," but the 1960s pop group Frankie Valli & The Four Seasons.
"Hey, it's New Jersey, it's Frankie Valli, you've just gotta do it," he almost shouts. "Without the Four Seasons, it's not really a party. It's not Jersey!"