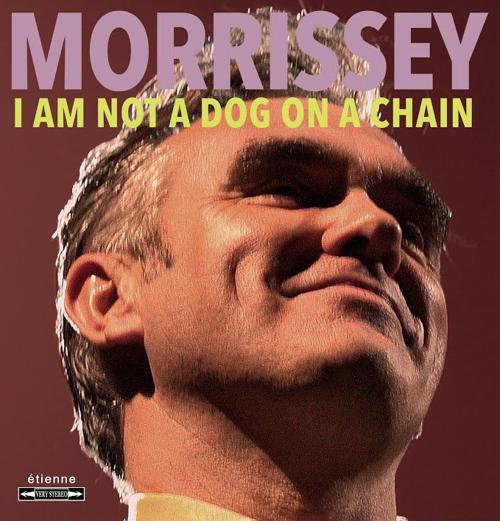 Morrissey, "I am Not a Dog on a Chain"(BMG)
The twilight of Morrissey's career has been surprisingly prolific. Since 2004 he's put out a total of seven records, three of which have been released within the last 30 months. That's a lot of work for a guy in his '60s, especially when you consider the snail-like output of peers like New Order and The Cure, the latter of which has not released a proper album of new material since 2008.
Morrissey's newest record is called "I Am Not a Dog on a Chain," a quirky title that follows in the Morrissey tradition of quirky titles (after all, this is the man who penned songs like "Hairdresser on Fire," "The Teachers are Afraid of the Pupils" and "Kick the Bride Down the Aisle"). Though his output has been plentiful, this record is easily Morrissey's most consistent since 2009's "Years of Refusal," with Manchester's favorite poet navigating his way through modern-sounding production with the confidence of a much younger man – or at least one who is not on the cusp of becoming a senior citizen.
"Jim Jim Falls" kicks off the record - a superb track which introduces itself to the listener via a vigorous electronic beat, one that initially seems more suited for a Depeche Mode record than anything you might recognize from Morrissey. Get used to it though, because the album is awash in electronic beats and modern-sounding sequencing. The good news is that it actually serves the music instead of standing out as so many attempts at "experimentation" do. Once past the drum intro, the song quickly slips from a verse to a soaring chorus. It's the type which you'll want to sing along with, but you may find yourself hesitant, as Moz spits out not-that-shocking-for-him lyrics like "If you're gonna kill yourself, then to save face, get on with it" (a line he sings less than a minute into the album's opening song).
Compared to much of his recent output, "I Am Not a Dog on a Chain" is a far more energetic record, with syncopated beats and samples driving tracks like "Once I Saw the River Clean" and showing up again in the superb lead single, "Bobby, Don't You Think They Know?," an unexpected duet shared with '70s R&B queen Thelma Houston. The track works somehow, though it teeters dangerously close to unintentional comedy as Houston belts out her soulful voice in jarring contrast to Morrissey's, the two of them at times appearing to be entrenched in hostile competition for the microphone. With a sonic rat's nest of guitars, drums and swirling Hammond organs, it is easily the most dynamic track on the album.
Moz adopts a show tune rhythm for the bouncy title track, which is breezy and fun despite some eye-rolling lyrical content about newspapers being "troublemakers," (an awfully Trumpish lyric for a gay-friendly indie rock god such as he.) The next track in sequence, "What Kind of People Live in These Houses," serves as the most Morrissey-esque song on the record, covering familiar ground with its jangly guitars, the track could easily fit in on Morrissey's beloved 1994 album "Vauxhall and I."
There are a few clunkers though. "Love Is on Its Way Out" tries to get off the ground but is ultimately weighed down by a repetitive verse structure that doesn't get moving until the last minute of the song. And though its animal-friendly references are well meaning, we've heard him touch on these themes with much better and funnier results (see "The Bullfighter Dies" from 2014's "World Peace Is None of Your Business"). Other obvious flops include the utterly dull "The Truth About Ruth" and the uninspired and lengthy "The Secret of Music."
The album ends on a lush note with "My Hurling Days Are Done," an ode to the endless battle between man and time, otherwise known as aging. The song once again taps into Morrissey's penchant for peppering his songs with humor, hilariously stated in the following lyric:
"Time, a blossoming clover, But soon it will say, 'Okay, come on son, bend over'
Oh time, Oh, time, No friend of mine"
Time may not be on his side, but after a few listens of "I Am Not a Dog on a Chain" most fans should be.