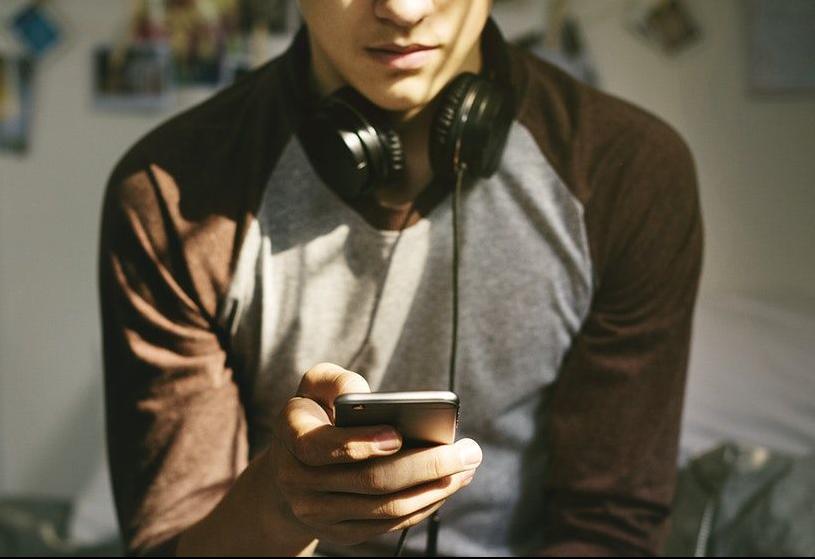 From the late '60s through the '90s, listening to albums in their entirety was a regular experience for music fans. On any given night, teens from across the country could be found sitting on their beds with a record playing from front to back. The album was not background music, nor a place holder for some other type of entertainment, it WAS the entertainment. Whether it was a cd, tape or record, it was important. It was something you had saved up your money to buy. There was a sense of mystery in a great record, and it offered a way to escape the stresses and perils of day-to-day life. The ritual also produced a great connection between the bands and those fans who sat in their bedrooms, taking in every lyric, riff and crescendo while gazing at the album cover, studying the artwork, memorizing the track names, band members and which instruments they played. It was an immersive experience and a deeply personal one, absorbed fully by the listener.
In recent years, streaming services such as Spotify and Apple Music mean that just about all of us have access to almost every album ever recorded. And while that is exciting, it often feels like a dinner menu with too many options. The music feels disposable, and the album as a concept gets lost, as the instinct is to jump from artist to artist like a jittery wedding DJ desperately trying to get the crowd on the dancefloor.
Although streaming services may make have their downsides, they do offer us endless opportunity to enjoy records from front to back. And with our present status as a country on voluntary house arrest, there has never been a better time to revisit the album as an experience. So shut the TV, drop the phone, dim the lights, put on your headphones and resist the urge to hit shuffle. Here are four classic albums that everyone should enjoy in their entirety.
Over their 40-plus years of being in existence The Cure has painted themselves in every musical color imaginable, from the wirey-yet-pop-driven post-punk of 1979's "Boys Don't Cry" to the foreboding goth doom of 1982's "Pornography" to the manic, guitar-flavored rock of 1992's "Wish." But without question, their most cohesive and beloved work is 1989's "Disintegration," an absolute masterpiece awash in dream-like soundscapes with lyrics that range from wistful to blissful, backed by brilliantly intertwined flourishes of guitars, orchestral synthesizers and 6-string bass, all stamped with singer Robert Smith's signature pleading vocals. While not technically a concept album, Disintegration has the feel of one both sonically and lyrically, as themes of aging, love and loss run through the entire 72-minute experience. "The Same Deep Water as You" is a 9-minute haze of stormy beauty, and it's possibly the best track in their entire catalog.
Artist: Bruce Springsteen
Some albums are so enjoyably breezy to listen to you find yourself on the last track before you even realize it. Springsteen's Born in the USA falls into that category. That's not to say the content is sophomoric or trite on this chart topping 1984 classic, it's more of a nod to the amazing ability that "The Boss" has when it comes to writing a catchy melody. Track after track of arena rock anthems and sing-along choruses are what you'll remember from first listen, but it's the pair of back-to-back mournful somber tracks - "Downbound Train" and "I'm on Fire" that give this record its depth. As per usual with Springsteen, the story-like lyrics depict the struggles and triumphs of the everyday American masterfully. Though the lyrics remain poignant, Born in the USA is a rock record through and through, and you'll find it's probably best listened to through the blasting speakers of a car stereo. And while you could easily argue the merits of just about any Springsteen record for this list, you'd be hard pressed to find one that offers the listener such a smooth ride.
"Appetite For Destruction"
When I was 10 years old my Uncle Tom bought me this album as a get well present when I was recovering from a concussion in the hospital. I threw the cassette into my Walkman that day and was never the same again. Putting on "Appetite for Destruction" is like plugging yourself directly into an electric socket. This masterful debut album from one of the greatest rock bands of all time is a high-speed drug-fueled ride through the streets of mid-'80s West Hollywood (when it was at its sleaziest and best). It's hard edged, it's mean, it's trashy and it rocks harder and more confidently than any album before or since. Tracks like "Mr. Brownstone" "Out Ta Get Me" and "Welcome to the Jungle" plunge the listener on a wild trip they may never have planned on taking, but will never forget.
Sure the obvious choice for this would have been their 1973 classic Dark Side of the Moon, and though that makes for a perfect listen all the way through, it's been done to death by every stoner who ever set up their "Wizard of Oz" VHS to synch up with the record (look it up, I can't be bothered to explain).
For a less famous, but equally magnificent listening experience, Pink Floyd's 1977 album "Animals" offers the listener a concept record filtered through a scathing critique of capitalism and the class system. The Album contains three musically intense, extended length songs, and is bookended by a intro/exit piece, "Pigs on the Wing (Parts I and II)." Each of the three main tracks zero in on an element of society, using the metaphor of various animals to compare them to. "Dogs" focuses on the competitive and predatory nature of high powered businessmen, "Pigs (Three Different Ones)" on those who sit at the top of the social ladder and "Sheep" on the hordes of followers who walk through life being controlled by others. Heady stuff, but sonically amazing, as the musicianship bursts at the seams with passion and purpose, accented by brilliant guitar work from David Gilmour and giant 70s keyboards and organs courtesy of Richard Wright. Of course as with most Pink Floyd concept records, Roger Waters is the man behind the whole idea, providing fierce lyrical content and complex basslines over a musical masterpiece that still holds up more than 40 years after its release.