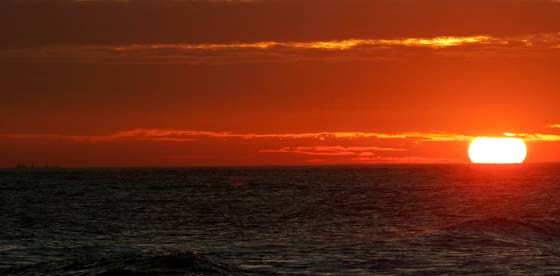 BACKGROUND: Southern New Jersey is one of the few places, not counting islands, where you can watch the sun rise and set over water.
For convenience of viewing the celestial ball of fire rising from the Atlantic Ocean, you can't beat the boardwalks and promenades along our beachfronts. Most visitors only need the will to rise before dawn to witness one of nature's most spectacular views.
To see it sink again into the sea, you might have to travel a little but you needn't lose any sleep.
Here are some great local places to see the sun coming and going
From the ocean-end deck of the Pier at Caesars on the Boardwalk in Atlantic City, you're surrounded by water as you watch the sun rise. Once the shops open, window walls provide an impressive (and weatherproof) view of the Boardwalk and beyond.
For the nothing-but-nature sunrise, try Stone Harbor Point. At the south end of the island, it's just you and the birds on an unraked beach.
With a name like Sunset Beach, at the west end of Sunset Boulevard in Cape May Point, how can you go wrong? Also see the remains of the concrete ship Atlantus and look for Cape May diamonds on the beach.
For the ultimate sunset spectacular, climb the 199 steps up the Cape May Point Lighthouse in Cape May Point State Park. By mid-August the sun will start setting by the 8 p.m. closing time. Admission to the lighthouse is $7 adults, $3 for children