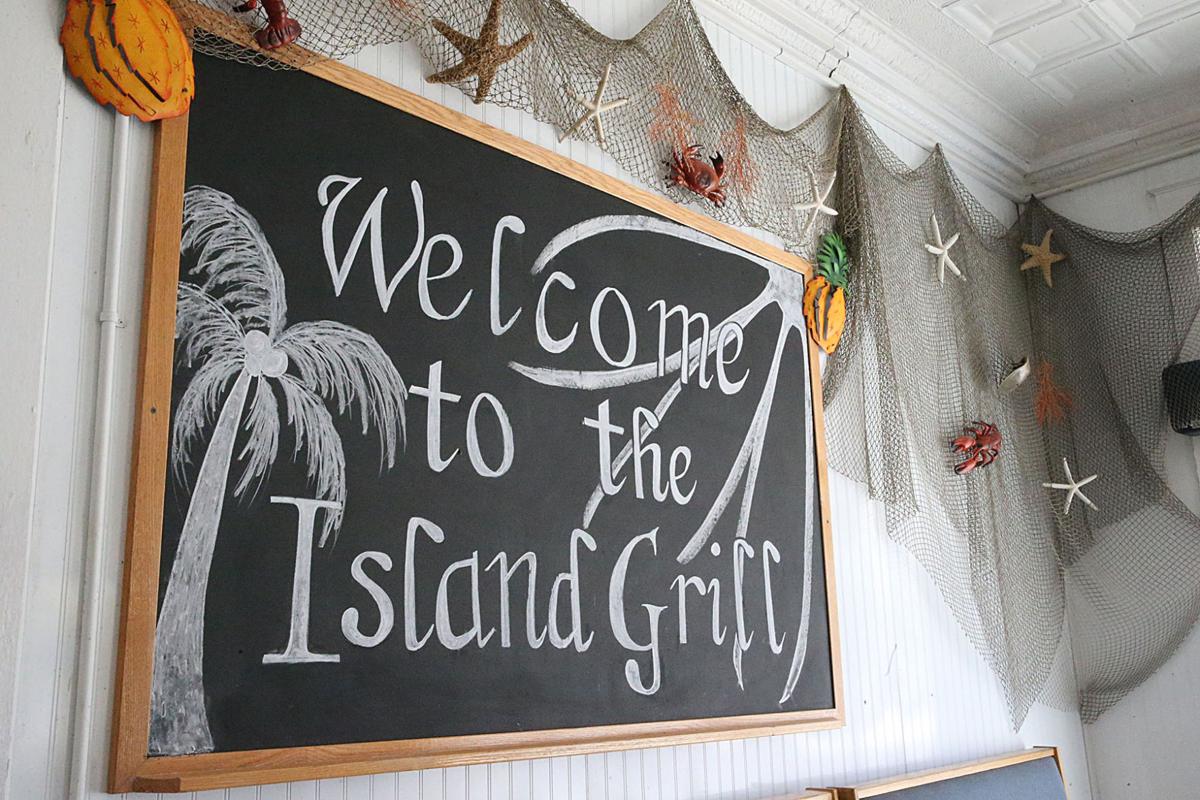 As Island Grill gears up for its 21st season, the Ocean City establishment promises to bring something fresh to the area.
"We do between 12 to 18 fresh fish everyday," says Andrew Yoa, chef and owner.
After being closed for the past two months, the daily catch is not all that will be fresh this year.
With its cool green, beachy brick exterior and piling palisade, the Island Grill has made some changes to its interior that are sure to please. The restaurant added a new cafe bistro area and commissioned local artist Aaron Bogushefsky to paint an approximately 8-by-25-foot mural that will be a focal point for the laid-back ambiance.
"The mural will bring a whole new look to the restaurant that people are going to love," Yoa says.
One thing that won't change is the huge selection of fresh seafood, either expertly prepared by Yoa or available for purchase in the market. After 20 years in the business, Yoa knows exactly where to get the best product.
"We have five different seafood suppliers. We bring in a lot of local products, but we also have suppliers all the way in Hawaii," Yoa says, which allows him to continually rotate through a big selection of fish seldom seen on other area menus. "Sometimes, technically, the Hawaiian fish is a day fresher than the local fish," Yoa says. He explains that his Hawaiian distributor will have his order out of the ocean and delivered to the restaurant about 24 hours later, whereas local fisherman will often go out for up to three days at a time.
Regardless of where the fish comes from, Yoa places great emphasis on ensuring that it's fresh, whether it's golden tile, monk fish, mahi, swordfish or fluke. Prices are based on the market and the fresh catch menu is always changing. However, through May 15 you can opt for the seafood supreme ($28.99), which includes broiled crab imperial, Cape May scallops, Key West shrimp and Cape May flounder; the cedar plank salmon ($25.99), fish and chips ($16.99), which are hand-breaded, deep-fried cod fillets with fries and homemade cole slaw, and more.
But don't let the Island Grill's laid-back atmosphere fool you. This restaurant has a serious wild side. During the summer, there are more than 100 items on the dinner menu. There's also a "Safari Menu" — a special, weekend-only menu available on a first-come, first-serve basis that can include items such as kangaroo, wild boar, caribou, elk or even yak.
in Ocean City and so many restaurants offer seafood. So when we wanted to do something different, we found some really unique farms and distributors," Yoa says of this unusual menu that changes weekly and ranges in price from about $17 to $30. "This menu has built up a sort of following."
While you are not likely to find these meats in other area restaurants, they are common around the world. "The farms we source from are all USDA-inspected and observe responsible practices," Yoa says, who sources the highest-quality meats possible such as free-range, antibiotic- and hormone-free chicken or Safari-menu meats from farms that don't use antibiotics or hormones.
Yoa, who grew up in West Deptford and spent every summer in Ocean City since birth, attended Johnson and Wales University, where he earned degrees in culinary arts and food service management. After graduation, Yoa knew where he wanted to be — Ocean City. At just 24, he opened Island Grill and has been running it with his wife ever since, often relying on help from his entire family.
"My brother actually met his wife-to-be while they were both waiting tables here one summer," Yoa says. Now, summer means that you will likely find Yoa's wife, two sons, parents and grandfather helping out.
Ocean City may be America's favorite family resort, but Island Grill proves even this town has a wild side.
8 p.m. Fridays through Sundays. Hours will be extended after Mother's Day.
How much: Breakfast $2.99
to $15.99; lunch $6.75 to $22.99; dinner $6.99 to $29.99; plus market-value specials.
Services: Accepts most major credit cards. Kid-friendly. Takeout. Catering. Fish market. No alcohol, no BYO.
Associate Editor, At The Shore/ACWeekly