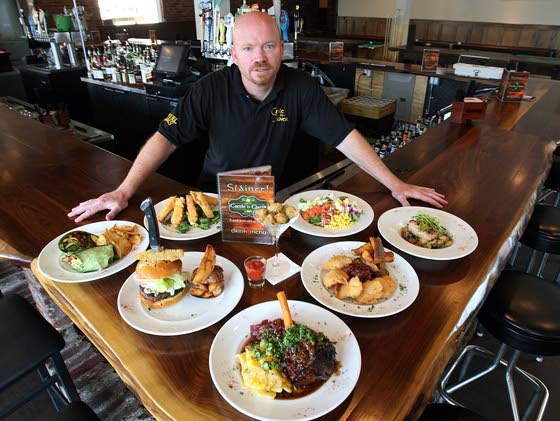 Maybe sampling all the fabulous culinary fare the Wildwoods have to offer in a single week was deemed insufficient. Or maybe the event was such a hit during its initial launch six years ago that a second week within a year just seemed to make sense.
Whatever the reason, Wildwoods Restaurant Week has morphed into a two-part series — the first occurred during a week in late June and the second is scheduled for Sunday, Aug. 23, through Friday, Aug. 28. About 30 restaurants, diners, pubs and pizzerias participate throughout the five-mile island, each offering a complete four-course meal that includes appetizer, salad, entree and dessert for a prix-fixe price of $30 per person, plus tax and gratuity.
"Restaurant Week has helped to bring in a plethora of new customers, many of whom continue to dine with us throughout the summer season," says Rose Alfe, owner of Alfe's Restaurant. "More promotions like these are needed in the Wildwoods."
Located on Oak and New Jersey avenues in Wildwood, Alfe's has served Italian and seafood specialties for more than 25 years. Other establishments participating in Restaurant Week span the gamut from Mexican fare, such as Bandana's Mexican Grille, to Irish specialties such as Cattle 'n Clover Irish Steakhouse and Westy's Irish Pub, to contemporary American fare such as the Dogtooth Bar & Grill, North End American Grill, the Vegas Diner and the Star Diner Cafe.
"(Restaurant Week) brings the community together, as well as provides an opportunity for patrons to sample select choices that highlight the variety of our menu," says Brendan Sciarra, owner and operator of Dogtooth Bar & Grill. "It brings awareness to the abundance of options throughout the Wildwoods and, in turn, allows us to present our high standard of service and food preparation that we consistently serve our customers."
Many Restaurant Week establishments also have spectacular views of the ocean or bay. The annual event is presented by the Wildwood Restaurant Association.
Participating Restaurants:
Adam's Restaurant:1700 Boardwalk in Wildwood, 609-523-1002
Alfe's Restaurant: 3401 New Jersey Ave. in Wildwood, 609-729-5755
Bandana's Mexican Grille: 5607 Atlantic Ave. in Wildwood Crest, 609-522-5735
Blue Water Grille: 3320 Atlantic Ave. in Wildwood, 609-522-0303
Boardwalk Bar & Grill: 3500 Atlantic Ave. in Wildwood, 609-522-2431
Boathouse Restaurant: 506 W. Rio Grande Ave. in Wildwood, 609-729-5301
Cattle 'n Clover Irish Steakhouse: 3817 Pacific Ave. in Wildwood, 609-522-3800
Dogtooth Bar & Grill: 100 E. Taylor Ave. in Wildwood, 609-522-8383
Flip Flopz Bar & Grill: 106 W. Spruce Ave. in North Wildwood, 609-522-3350
Gia Restaurant: 7400 Ocean Ave. in Wildwood Crest, 609-729-5959
Ice House Restaurant & Bar: 4415 Park Blvd. in Wildwood, 609-522-0033
Jersey Girl Drinks and Dining: 3601 Atlantic Ave. in Wildwood, 609-523-1800
Joey M's La Piazza Cucina: 4600 Pacific Ave. in Wildwood, 609-522-8300
Little Italy Restaurant & Market Place: 5401 Atlantic Ave. in Wildwood Crest, 609-523-0999
Neil's Steak and Seafood Restaurant: 222 E. Schellenger Ave. in Wildwood, 609-522-5226
North End American Grill: 206 Olde New Jersey Ave. in North Wildwood, 609-435-5691
Pacific Grill: 4801 Pacific Ave. in Wildwood, 609-523-2333
Pasto Pesto: 3810 Atlantic Ave. in Wildwood, 609-522-6272
Piro's Village Restaurant: 1901 New York Ave. in North Wildwood, 609-729-0401
Poppi's Brick Oven Pizza: 4709 New Jersey Ave. in Wildwood, 609-600-3964
Ravioli House: 102 E. Bennett Ave. in Wildwood, 609-522-7894
Schellenger's Restaurant: 3516 Atlantic Ave. in Wildwood, 609-522-0433
Star Diner Cafe: 325 W. Spruce Ave. in North Wildwood, 609-729-4900
Tavern on the Bay: 517 W. Rio Grande Ave. in Wildwood, 609-522-3055
The Establishment at 100: 100 Olde New Jersey Ave. in North Wildwood, 609-523-8100
The Wharf Restaurant: 708 W. Burk Ave. in Wildwood, 609-522-6336
Urie's Waterfront Restaurant: 588 West Rio Grande Ave. in Wildwood, 609-522-4189
Vegas Diner: 1307 New Jersey Ave. in North Wildwood, 609-729-5511
Westy's Irish Pub: 101 E. Walnut Ave. in North Wildwood, 609-522-4991