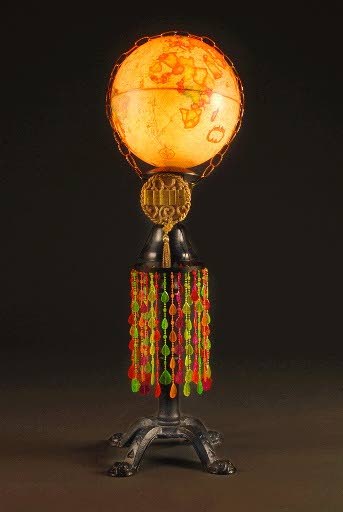 Artists from the Riverfront Renaissance Center for the Arts turned on their creativity for a new exhibit that takes an innovative look at an item we all have in our homes - lamps. Currently occupying the RRCA's Witt gallery, "Lighten Up!" is a collection of artfully decorated and uniquely constructed lamps created by area artists. Michelle Post, who curated the exhibit, put no constraints on the artists, but did give them just one stipulation: their lamps must plug into an outlet and actually light up.
The result is a display of one-of-a-kind illuminated treasures from artists Harry Anderson, Charmaine Caire, Dave Carrow, Alden Cole, Pam Lethbridge, Ted Simon, Wayne Russell, Eric Schultz, Carol Sivin, Sally Willobee and also Post.
Creating art from ordinary objects is a challenge no artist can resist, and the result can even be viewed philosophically, Post says.
"Rising to the challenge of bursting through and penetrating darkness come artists whose wit and imagination show us not to take life too seriously; with laughter comes healing, and with illumination comes peace," she says in her artist's notes for the exhibit.
The display is joined by new exhibits in the North Gallery, the Atrium and the Artists Alcove, which will all remain on display until Dec. 30. Pieces are available for purchase during the holiday season. The RRCA also offers free gift wrap with all purchases.
The Riverfront Renaissance Center for the Arts is located at 22 N. High St. in Millville. It is open 11 a.m. to 5 p.m. Sundays through Thursdays, 11 a.m. to 6 p.m. Fridays and 11 a.m. to 3 p.m. Saturdays. For more information call 856-327-4500 or go to www.rrcarts.com.
•"Suenos: Contemporary Latin American Art," through Jan. 23 at the Noyes Museum of Art of Richard Stockton College. Hours: 10 a.m. to 4:30 p.m. Tuesdays through Saturdays and noon to
5 p.m. Sundays, closed on major holidays. It is located one and a half miles south of Historic Smithville Village, off Route 9, on Lily Lake Road in the Oceanville section of Galloway Township. Admission: $4 for adults and
•Exclusive Atlantic City "Scrabble The Art!" can be purchased at Oh My Godard Gallery, The Pier Shops at Caesars, Atlantic City, to benefit Gilda's Club South Jersey Noogieland. The art depicts big letter tiles that spell out "Atlantic City," with surrounding game squares street names around the Boardwalk area. Call 609-441-2040.
•The African American Heritage Museum of Southern New Jersey (AAHMSJ) exhibits "The Way We Were," through December at the museum's gallery, located at the Martin Luther King Center, 661 Jackson Road, Newtonville, Buena Vista Township. Hours: 10 a.m. to 3 p.m. Tuesdays through Fridays, by appointment only Mondays and Saturdays. Admission is free. Donations accepted. Go to www.aahmsnj.org
•Positively 4th Street Cafe hosts an exhibit by photography artist Joanne Bernardini through Saturday, Nov. 27. The exhibit features her award-winning photographs of Ireland with the addition of some local scenes. Bernardini's photographs have been exhibited at the Noyes Museum, and she is a two-time winner of the National Arts Program Scholarship award. Bernardini's work has won awards in juried competitions held at the Ocean City Fine Arts League, the Hammonton Arts Center, Galloway Cultural Arts Center, and the Avalon Performing Arts Council Show. All artwork is for sale. Hours: 9 a.m. to 3 p.m. Mondays to Saturdays. Positively 4th Street Cafe is located at 400 Atlantic Ave., Ocean City. Call 609-947-2451.
•Ocean City Fine Arts League hosts its annual Petite Show and Arc Artists Exhibit the month of December at Art on Asbury, 608 Asbury Ave., Ocean City. A reception and awards ceremony will be held from 6 to 7:30 p.m. Dec. 10. The event is free and open to the public. Also on display is the show "Sunrise and Sunsets" through November. All artwork will be for sale. Hours: 10 a.m. to 5 p.m. Mondays to Fridays and 10 a.m. to 1 p.m. Sundays. Call 609-814-0308.
•The St. Barnabas Art Group exhibits selected paintings through Dec. 23 at SOMA NewArt Gallery, located in Carpenters Square Mall, 31 Perry St., Cape May. Hours: 10 a.m. to 6 p.m. Thursdays to Mondays. All works are available for purchase. Call 609-898-7488.
•""A Bayshore View" is on display through December at Sluice Creek Gallery at the Cape May Bird Observatory. The exhibit includes photography of the bayshore area by Geoffrey Ansell Agrons, pottery by Susan Ross, new work from painter David Kiehm, and folk art and wildlife carvings exhibited by approximately 15 area artists. Sluice Creek Gallery is located at 600 Route 47 North, Goshen. Call 609-861-0700, ext. 38.
•The 64 women artists represented by the William Ris Gallery are featured in the exhibit, " Colorfast Women: Having color that does not fade or run," through December in the gallery's Stone Harbor location, 9400 Second Ave. There is also a sister gallery, located at 271 21st St., Avalon. Both locations are open 10 a.m. to 9 p.m. daily. Call 609-368-6361 or go to www.williamris.com.
Cumberland County and Points West
•"Curator's Choice," more than 100 pieces of glass from the Jones Museum and the private collection of Dorothy-Lee Jones, is on exhibit through Jan. 2 at the Museum of American Glass, Wheaton Arts and Cultural Center, 1501 Glasstown Road, Millville. Hours: 10 a.m. to 5 p.m. Tuesdays through Sundays. Entrance to the museum is included in the price of admission to WheatonArts:
$10 adults, $9 senior adults,
$7 students, free for ages 5 and younger. Call 800-998-4552 or 856-825-6800.
•The Fall Art Show of the Pine Shores Art Association runs through November. Hours: 1 to
3 p.m. Sundays and 10 a.m. to 2:30 p.m. Wednesdays. It is located at 94 Stafford Ave., Manahawkin. Call 609-978-9022.
Items for Art Gallery should be sent two weeks in advance to ldrake@pressofac.com or mailed to Lucia C. Drake, The Press of City, 11 Devins Lane, Pleasantville, N.J. 08232.