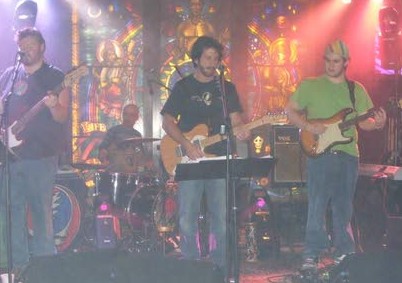 While at a Steal Your Face show, expect to get up close and personal - that is, if you allow the bandmembers to get up close and personal with you.
"We love to interact with our audience," says Garry Engel, guitarist and vocalist for the band. "We consider our fans as a large family, and it means so much to us that our fans feel the same way. So, during our shows, it feels like we are affecting our audience in that close, positive way with constant interaction. It brings up the intensity of our performance."
And with that intense performance comes high praise - Steal Your Face was honored with the award for "Best Jam Band - Live Performance" by the Montgomery/Bucks, PA, Music Awards.
"We are a talented group of musicians who create magic when we perform together," Engel says. "We truly love and enjoy each other, as well as the music we play. We show that on and off stage."
Go See Them: You can catch Steal Your Face 9 p.m. Saturday, March 24, at the Dizzy Dolphin Bar, located inside the Atlantic Club Casino Hotel, Boston Ave. and the Boardwalk in Atlantic City. Admission is free. Steal Your Face will be back at the Dizzy Dolphin on Friday, April 13, as well as Saturday, May 12. Both shows will start at 9 p.m.
What's On Deck: During July or August of this year, be on the look out for the official date of the Steal Your Face Sunset Jam Cruise, which will depart from Captain Andy's Marina in Margate, and last three hours. The event is filled with music and fun, while Steal Your Face performs aboard the Jessie O' II. The official date will be announced on their website in the coming weeks.
Fan Favorites: "Shakedown Street," "Another Brick In The Wall," "Dancin' In The Street," "All Along The Watchtower" and "Dear Prudence."
Live Like a Local: Although Steal Your Face hails from the Philadelphia area, they consider southern New Jersey to be a second home. "We have such a large fan base in southern New Jersey, so we love to come play to the crowds down here," Engel says. "We love to perform at The Hard Rock Cafe, The Dizzy Dolphin, and the summers are always great at all the Beach Bars."
Who's Who: Paul Caroli, lead vocals, bass; Garry Engel, guitar, vocals; Curtis Eustace, lead guitar; Lou Zalvino, drums; Terry DeAngelo, keyboards, drums.