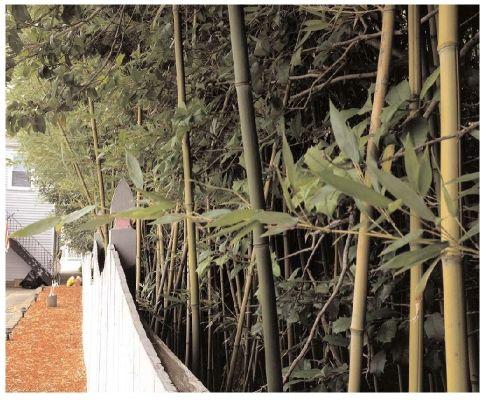 UPPER TOWNSHIP —Township Committee voted recently to approve separate ordinances that will prohibit new plantings of invasive species in the township and allow for 10 accessory apartments in commercial zones as part of an affordable housing plan.
Mayor Richard Palombo said March 7 that the invasive plant ordinance applies to bamboo and other plant species that can spread. He said the issue was raised by a Strathmere resident in January.
Ed Dodge had complained to the committee about bamboo from his neighbor's yard spreading onto his property. He told committee members he has been battling the problem for two years, and that the bamboo had spread at least 20 feet beneath his porch, against the foundation of his home, and into his septic system.
The ordinance also covers some vines, poison ivy and other invasive plants.
Along with banning new plantings of invasive species, the ordinance requires property owners to contain any existing invasive species on their property. Complaints that a plant is spreading to another property will be investigated by the township's code office. Property owners could face fines if they do not contain the growth.
Ocean City banned any new planting of bamboo in 2014, with residents required to contain running and clumping bamboo to their properties or face a fine of as much as $100 per day. Northfield, Linwood and many other communities also have recently approved bans on invasive species or bamboo.
Township Engineer Paul Dietrich said the accessory apartment ordinance will allow 10 accessory apartments for affordable housing in commercial zones. The apartments would be set aside for moderate-income households, he said. Moderate income is defined as between 50 percent and 80 percent of the median income in this area.
Owners of the accessory apartments will receive a subsidy from the township's Affordable Housing Trust Fund, which uses money raised through developer's fees. The accessory apartments will have to be deed-restricted for affordable housing for 30 years, Dietrich said.
Dietrich said accessory apartments are already allowed in commercial zones, so any new units would not change the character of neighborhoods.
Solicitor Dan Young said the ordinance was found to be consistent with the township master plan after a review by the Planning Board.
The township is still awaiting a court ruling on how many affordable housing units it must provide. The Coalition on Affordable Housing no longer determines affordable-housing obligations under a March 2015 state Supreme Court ruling.
In that ruling, the state Supreme Court gave the power to determine affordable-housing requirements to the courts. Municipalities must now file actions before courts to seek review of their Fair Share housing plans, which Upper Township did in June.