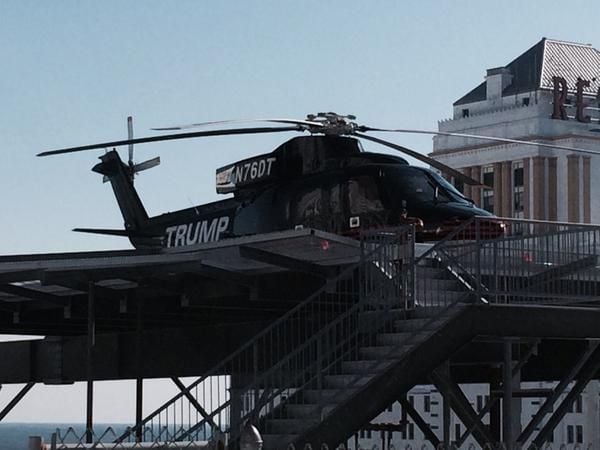 Donald Trump may work his way out of this financial bind, but his current cash-flow crisis will likely have a lasting impact, not only on his casinos here, but also on the entire industry and the city.
And while some critics are gloating to see Trump in financial trouble, his problems should generate no glee in Atlantic City. In too many ways, its future is inextricably linked to his. And his problems may result in significant changes in the number of casinos here and the way people view Atlantic City.
If nothing else, Trump's image has been significantly tarnished. He was a modern-day Midas.
Through hard work, hyperbole and lots of borrowed money, virtually everything he touched turned to gold. And those increased values allowed him to borrow more, buy more and hype more. Even when he failed, Trump was often able to make money on it.
But the financial crisis of recent weeks has shown that not everything goes right for Trump. And if bankers force him to sell off some assets that he has used to hype his own success, there is some concern that it might undermine his ability to keep attracting business to his casinos here.
"For the moment, Atlantic City's future is bound up with Donald Trump's future," said Carl Zeitz, a former member of the state Casino Control Commission. "If people think that's not a good thing, then things have to be done to encourage other people to come in and expand the business."
For several weeks, Trump and his bankers have been locked in negotiations designed to avert a financial catastrophe for the developer/casino owner.
The stakes increased on Friday when Trump did not make a $42 million payment to bondholders of his Trump Castle Casino Resort here. He will take advantage of a 10-day grace period while talks with bankers continue.
Trump reportedly also did not pay another $30 million in bank loans due Friday.
Trump Castle Casino Resort was supposed to pay its bond holders $19.9 million in interest on Friday and redeem $22.7 million worth of the bonds.
The gaming hall, however, didn't have the money to do that and the trustee for the bonds, First Fidelity Bank, indicated it would declare a default and start the 10-day grace period. It also resigned as trustee because of conflicts between its role as trustee and as a lender.
Trump Castle, the weakest of the three Trump casinos here, lost $8.4 million in the first quarter of this year and hasn't had a profitable year since 1987. At the same time, the property took on additional debt to finance construction of a new hotel tower and other improvements.
But the losses there pale in comparison to results from some of his non-casino ventures.
For example, he bought the Plaza Hotel in Manhattan in 1988 for $408 million and the grand hotel loses "a couple of million a month," according to one official who has seen the results.
Last year, he bought the Eastern Shuttle for $365 million and is now trying to unload it because it reportedly lost over $80 million in the first year.
As operations apparently drained cash reserves, Trump tried unsuccessfully to refinance or sell assets and had to turn to his bankers for relief.
His four main banks - Citicorp, Manufacturers Hanover, Bankers Trust New York and Chase Manhattan - agreed to lend another $60 million.
They also agreed to suspend interest payments for a period in exchange for increased collateral, equity in some of his properties, the possible sale of some assets and a change in his extravagant personal and business lifestyles.
As of Saturday, all of the banks still hadn't agreed to the deal. Sources indicated that Japanese banks with liens on Trump Tower in Manhattan were balking and might have to be bought out.
"My guess is that the bankers will blink first and give him more money," said one Wall Street analyst. "But the forces that have been set in motion now are virtually irreversible."
He said the result easily could be the sale of one of Trump's casinos here in addition to other assets.
Trump has used himself as a marketing tool for his casinos and other properties.
The image he has created of himself - an image of wealth, success and conspicuous consumption - is the foundation on which he has developed much of his empire.
It is also behind the public's desire to associate with him or be identified with his properties, allowing him to charge a premium for anything that has his name linked to it.
Trump's properties here are virtual monuments to excess.
His three casinos are weighed down with tons after tons of marble, covered with miles of the finest imported carpets, while his condominium apartments in Manhattan are among the most expensive anywhere.
He has a line of luxury limousines named after him and he travels in his own private jet or helicopter. He has tried to make his name synonymous with "quality."
Trump has parlayed that image into a marketing tool for the casinos here, even using his name as an adjective to describe the ambiance.
But what happens to that marketing tool when the image starts to become one of someone who is in a financial bind, isn't paying bondholders and contractors, is cutting back service, firing employees and welching on contracts?
Will people still be as attracted to Trump properties at a time of financial distress?
Two casinos here that have been forced into bankruptcy court in recent years certainly saw a serious erosion in their revenues, and veteran gaming industry executives have noted that suspicious gamblers are nervous about playing in financially weak properties.
One Wall Street analyst said that after Trump missed the interest payment, gamblers may worry that Trump may not be able to cover winning bets - an unlikely development since regulators would step in before that could happen.
The missed payment can also make suppliers suspicious and demand cash on delivery for their goods, a move which could only exacerbate any cash crunch.
"If Donald Trump, for any reason, does modify his lifestyle, it would be the same as saying, 'Suppose Steve Wynn became less flamboyant," said Walter N. Read, the former chairman of the state Casino Control Commission. "Donald has been good for Atlantic City and part of that good is that he has gotten a great deal of attention and publicity attracted to the city."
A less visible, less vocal, less boastful Trump will attract less attention and publicity to the city, Read said.
Anthony Parrillo, director of the state Division of Gaming Enforcement, tried to look at the situation from a different perspective.
"If he comes out of these negotiations intact, alive and well, might that not enhance his image?" Parrillo said.
Edward Tracy, Trump's chief executive here, insists that the properties are not for sale and Trump isn't looking for buyers for them. But will the banks effectively force a sale, or worse? If so, what will that mean?
"What we are looking at now is a far cry from the dissolution of a company or a property," said Parrillo. "Everything is very speculative right now. But if there is a restructuring and the properties come out stronger as a result, that will be good.
"If there is a disposition of any assets and that brings about a more diversified mix of ownership and operation, that's not bad either," he said.
Is there anyone out there who wants to buy a casino in Atlantic City?
"Prior to this problem, Atlantic City's chance of attracting new capital was zero," said Stephen Wynn, chairman of Golden Nugget Inc, owners of the Mirage casino hotel in Las Vegas.
"And until there is a significant change in the fundamental environment in that state, the chance of attracting new capital will remain zero," Wynn added.
Barron Hilton, chairman of Hilton Hotels Corp., said recently that his firm would consider buying a casino hotel here - including the Trump Castle, which it built and sold to Trump five years ago - but there aren't any current plans to do so.
Carnival Cruise Lines, which operates a casino in the Bahamas and a fleet of ocean liners that offer casino gaming, reportedly is also interested in a casino here.
"Back a while, I think two or three of Trump's places could have been sold pretty easily," said Read. "At that time, I had specific buyers who would have been interested at the right price.
"Some of those buyers are still around and might be interested, but the casino industry in Atlantic City isn't as attractive in 1990 as it was in 1987 or 1988," Read added.
If Trump's bankers effectively force him to sell a property here, it would reduce Trump's dominance in the casino industry here - something that has been a serious concern to regulators.
Trump owns three casino hotels here - Trump Castle Casino Resort, Trump Taj Mahal Casino Resort and Trump Plaza Hotel and Casino. He also owns the former Elsinore's Atlantis Casino Hotel, which is now functioning as the non-casino Trump Regency Hotel.
That gives Trump more than 30 percent of all the casino space in the city, about 34 percent of the casino-hotel rooms and 48 percent of the hotel meeting and exhibition space in casino hotels.
He also owns the former Penthouse property next to Trump Plaza, where he planned to build a 1,000-room addition to the casino hotel if litigation over the purchase is successfully resolved.
When the Casino Control Act was written, legislators didn't want any one casino owner or supplier to dominate the market.
They limited the number of casinos that one person or company could own to three and charged the Casino Control Commission with stimulating competition and preventing economic concentration.
With his three casinos and a third of the market, however, Trump does dominate the industry here.
Of course, the other way to reduce Trump's dominance, and the city/state's dependence upon him, is to increase the number of casinos here.
"The reason Donald Trump has 25 percent or 35 percent of everything isn't because he has three casinos, its because he has three out of only 12 casinos," Zeitz said. "That no one has come in to build the thirteenth, fourteenth and fifteenth isn't his fault."
To attract new investors here, however, will require a solution to political and financial disputes that have stymied the city's progress for a decade:
Who will control an expanded airport, where should a new convention center be built, and who will pay for it?
It will also require a number of changes to the way the state regulates casinos so that the gaming halls can operate more profitably.
"If Atlantic City's future is so bound up with his business success, it is because he is one of the few, or the only one who would make those decisions to invest here in the face of all the barriers New Jersey threw up," Zeitz said.
There are reasons to believe some of those problems may be resolved soon. Gov. Jim Florio has repeatedly stressed the need to develop full-scale airport facilities and attract a higher level of major airline service. That and a new convention center have been identified as priorities of the still-young Florio administration.
In addition, there are several pieces of legislation pending that would allow casinos to remain open longer hours, offer more games and ease employee licensing problems.
At the same time, the Casino Control Commission has been streamlining a lot of its procedures in an effort to increase efficiency and cut or contain costs.
"This thing should be viewed not so much as a Trump problem but an Atlantic City gaming industry problem," Wynn said. "We saw the problems associated with the marketplace there and they frightened us."
Trump's life has been rather chaotic lately.
In little over six months, the presidents of two of his properties here were killed and the third resigned; he separated from his wife and was subjected to a barrage of bad press because of his relationship with model Marla Maples; and the cash flow from his properties here diminished at a time when his cash demands grew.
The inability to raise more money - because of the weak real estate market, inability to obtain junk bond financing, the sluggish casino market - only added more pressure.
Because of the loss of three executives in a helicopter crash last October, Trump had to pay more attention to his Atlantic City properties, particularly the completion of the Taj Mahal.
It was billed as " The Eighth Wonder of the World" and Trump staked his reputation on its success. The opening in April, however, was chaotic as equipment and systems failed. The tabloids dubbed it "The Eighth Blunder of the World."
While the casino generated a citywide revenue record in its first month, the opportunity for millions more was lost because of problems with slot-machine operations.
Since then, the gaming hall has been generating about $1.1 million to $1.2 million a day in revenues, while the hotel generates another $400,000 a day or so.
That should be enough to generate a profit in the summer, but analysts are skeptical whether the casino can generate enough profits to get through the winter.
Trump officials are counting on convention bookings in the fall and winter to help replace summer revenues. In addition, its marketing program designed to bring in busloads of players is expected to build through the summer until it is luring several thousand people a day.
Because of the problems during the opening, however, there was a big shakeup in the casino's management.
For example, Donald C. Wood, the 30-year-old vice president of finance who collapsed on the casino floor from exhaustion, was fired just days later.
Walter Haybert, president of the hotel, was demoted to replace Wood and subsequently suffered a stroke. Donald Buzney, vice president of personnel, was fired in May and Trump officials refused to honor the termination provisions in his contract.
In a recent interview, Trump blamed some of the problems on bad decisions made by Stephen Hyde and Mark G. Etess, two executives who were killed in the helicopter crash. Those criticisms convinced Jack O'Donnell, who had resigned as president of Trump Plaza in April, to publicly criticize his former boss.
Tracy took over as head of all three properties and quickly set about to get the operations under control and cut costs. That meant cutting in a number of areas and virtually eliminating operations Trump had boasted about just a month earlier.
As a result, there were a number of layoffs at the Taj Mahal shortly after opening. Approximately 350 jobs have been eliminated by layoffs or by not replacing workers who left.
"I can speak for many people who either work there now or who have quit recently when I say that we were all hurt and let down badly by 'The Donald' since that poor excuse for a gaming hall opened up," one disgruntled employee wrote recently.
Blanche Travis wrote that when Trump people were recruiting, they promised full-time positions with benefits from day one, and that there would be no layoffs. She had given up a job she held for three years to work at the Taj Mahal only to be cut back from full-time work to an "on-call" basis with no benefits.
"So now where do I turn, Donald?" she asked. "I have you to thank for turning my life into complete chaos."
There are also a number of legal problems that can exacerbate Trump's financial problems. He is currently being sued by Pratt Hotel Corp. over his purchase of the former Penthouse Hotel site next to Trump Plaza.
Pratt had plans to build a new casino hotel there, but opposition from Trump delayed it until Pratt's option apparently expired. Pratt filed an anti-trust suit against Trump and charged he illegally interfered with its deal.
Another suit could come from bondholders of Resorts International Inc., who feel Trump left the firm insolvent when he sold control to entertainer/businessman Merv Griffin.
As part of the 1988 sale, Trump received $63 million to break his management contract with Resorts and bought the Taj Mahal for less than half of what Resorts spent building it.
As part of a bankruptcy reorganization plan, Resorts will provide the bondholders with a $5 million war chest to pursue litigation against Trump.
Trump also faces a suit from bondholders who argue that Trump improperly had Trump Plaza and Trump Castle turn over lists of their high stakes gamblers to the new Taj Mahal.
The suit basically claims that management of the hotels had a responsibility to the bondholders to keep the information confidential. Giving it to the Taj Mahal meant giving away an asset and obtaining nothing in return, the suit claims.
It's difficult to estimate what Trump's exposure is in any case, but his opponents suggest a loss in court could cost Trump hundreds of millions of dollars.
In addition to legal problems, there are regulatory concerns to keep in mind.
Whatever happens with the bankers, it probably won't have any immediate impact on Trump's casino licenses here. After all, he would not be the first casino operator to go into default.
Resorts International Inc. is currently in default and is working out a restructuring plan to emerge from Chapter 11 bankruptcy protection.
That may not have stopped Trump from using the possible risk of his casino licenses as a bargaining chip in his talks with the banks, according to one Wall Street analyst.
"He's probably warning them that if they don't lend him the money and he defaults, the state will put a conservator in to run the properties and that will surely run down the value of them," the analyst said.