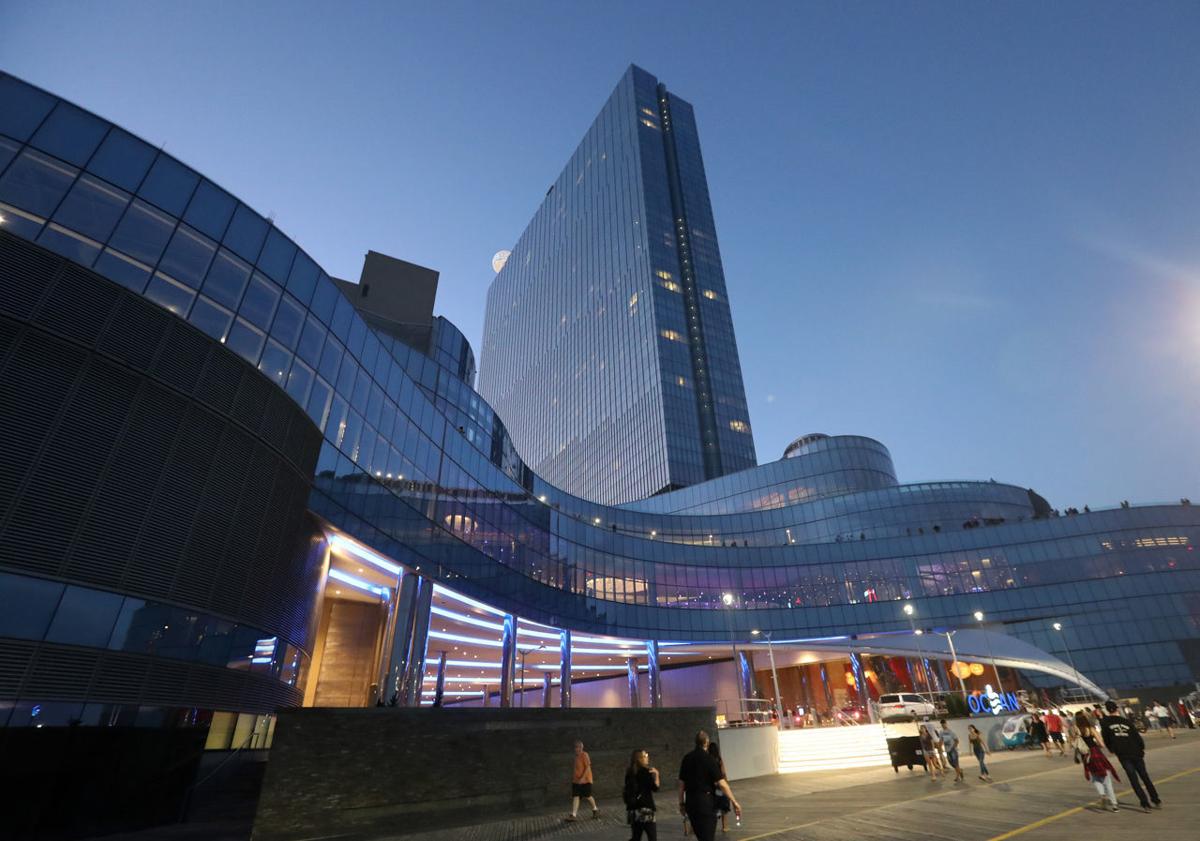 April 2006: Wall Street investment giant Morgan Stanley acquires the South Inlet property adjacent to the Showboat Casino Hotel for $70 million.
Oct. 6, 2006: Morgan Stanley selects Revel Entertainment Group to develop and operate a casino that will rise from a 20-acre oceanfront site in the South Inlet.
March 2007: Atlantic City passes an ordinance approving zoning changes that will allow developers to build a casino as tall as 800 feet, with an extra 100 feet for utilities and decoration.
Aug. 2007: Revel, backed by Morgan Stanley, announces plans to develop a $2 billion casino hotel featuring two 700-foot towers, the tallest buildings in the state. The project includes 4,000 rooms and 7,000 parking spaces.
Sept. 2007: Revel Entertainment and partner Morgan Stanley file plans for a new casino and 3,800 hotel rooms. It would be the first new casino in Atlantic City since the Borgata opened in 2003.
Nov. 2007: Revel projects an opening date in 2010.
July 31, 2008: A plane crash in Minnesota kills three executives of Revel Entertainment and its builder, Tishman Construction.
Aug. 27, 2008: Revel says it may hold off building a second 1,800-room tower until after its gambling resort opens in 2010. The company reportedly obtained a $160 million loan earlier in the year to build the structural steel and keep the project going until the rest of the funding is arranged.
Jan. 28, 2009: Running out of money halfway through the project, Revel Entertainment lays off 400 workers and slows construction of the casino, saying it will finish the exterior while looking for money to build the rest.
June 2009: Revel officials say the casino hotel expects to open in 2011.
Sept. 10, 2009: China State Construction Engineering Corp. partners with Tishman New Jersey to build the megaresort.
Jan. 18, 2010: State officials consider giving Revel $300 million in tax breaks over two decades.
March 10, 2010: Local 54 of UNITE-HERE files a lawsuit to force the city to let voters decide whether Revel should receive $300 million in tax breaks.
March 23, 2010: Lawmakers stop opponents from getting a public vote on a proposed $300 million state tax break for Revel.
April 1, 2010: Morgan Stanley announces it is pulling out of the project and will put its ownership stake up for sale. Morgan Stanley books a nearly $1.2 billion loss from its investment in Revel.
April 22, 2010: Morgan Stanley decides it's better to take a $932 million loss on Revel than to spend an additional $1 billion to finish the project. Its decision to pull out sets off a scramble for new financing that spans the globe, including inquiries in China.
Feb. 1, 2011: Gov. Chris Christie announces Revel has secured its remaining financing, and he signs a package of bills designed to revive Atlantic City, including the creation of a state-supervised Tourism District. The state authorizes $261 million in tax-increment financing through its Economic Development Authority. But the aid is to flow only after Revel reaches certain profitability thresholds, which it never does.
Feb. 2011: Revel scales down its plans, eliminating a proposed second hotel tower that reduces the number of rooms to about 1,100.
Feb. 3, 2011: Revel works to complete a $1.15 billion financing package that would allow construction to resume.
March 2, 2011: Morgan Stanley sells its stake in the Revel casino for $30 million after suffering a $1.2 billion loss.
March 3, 2011: Construction resumes at the project, putting about 2,000 workers on the job.
Sept. 15, 2011: A construction worker is struck by lightning and killed while working outside at Revel.
Feb. 9, 2012: After weeks of speculation, Revel CEO Kevin DeSanctis announces that Revel will open April 2, beginning an eight-week preview period culminating in a grand opening celebration Memorial Day weekend.
Feb. 16, 2012: Revel says it will have many more part-time jobs than the other Atlantic City casinos; workers will be required to reapply for them every four or five years.
March 7, 2012: Revel reveals that Mitch Gorshin, whose father, Frank, played the Riddler from the "Batman" TV series, designed the casino's distinctive white ball atop its triangular roof.
March 26, 2012: Revel gets its casino license from New Jersey.
March 28, 2012: Revel starts a two-day trial gambling period for invited guests before its official opening.
April 2, 2012: Revel opens to the public.
May 9, 2012: Revel's $13 million in casino winnings ranks it near the bottom of Atlantic City's 12 casinos --a spot it would occupy for its two-year existence.
Aug. 22, 2012: Wall Street ratings agencies downgrade Revel debt after the casino's slow start.
Nov. 30, 2012: State Senate President Steve Sweeney calls Revel's finances "dire" and warns of a possible collapse.
Dec. 28, 2012: Revel lines up new financing for the second time in less than a year.
Feb. 19, 2013: Revel announces it will file for bankruptcy in March to eliminate $1 billion in debt by converting it into equity for lenders.
March 13, 2013: Revel announces that DeSanctis will be replaced by interim CEO Jeffrey Hartmann.
May 21, 2013: Revel exits bankruptcy court by giving lenders an 82 percent stake in the property.
June 19, 2014: Revel files for bankruptcy again and warns that it will close if a buyer cannot be found in a court-approved auction. A Revel lawyer tells a bankruptcy judge that the casino is "a melting ice cube."
Aug. 7, 2014: A scheduled bankruptcy auction for Revel is postponed for a week to let management evaluate bids.
Aug. 12, 2014: Revel announces it has failed to find a buyer and will close.
Sept. 1, 2014: Revel closes its hotel.
Sept. 2, 2014: Revel closes its casino. 
April 7, 2015: Revel Casino Hotel was sold to developer Glenn Straub's company for $82 million.
April 29, 2015: ACR Energy Partners, embroiled in a fee dispute with the building's new owner, started providing energy to the building as part of a two-week deal designed to get power to critical parts of the property, including its fire-suppression system. ACR, which had been Revel's sole power supplier, cut power April 9 - two days after developer Glenn Straub's Polo North Country Club bought the Revel complex.
Oct. 9, 2015: Atlantic City Sewerage Co. wants a judge's permission to stop servicing the former Revel Casino Hotel and a court order barring the property's owner from discharging sewage and wastewater into the local sewer system.
Nov. 3, 2015: Revel owner says he'd let Syrian refugees stay there while the future of the building is hashed out. Glenn Straub tells The Associated Press he's willing to let people displaced by the civil war in Syria stay at the 47-story Revel resort as he fights in court over its future. 
Jan. 4, 2018: Straub sold Revel to AC OCEAN WALK, a group led by Colorado-based investor Bruce Deifik, for $200 million. The property is scheduled to reopen over the summer as Ocean Resort Casino, joining Hard Rock, which will open its new property at the former Trump Taj Mahal Casino Resort site. Straub bought the $2.4 billion Revel for $82 million in bankruptcy court in August 2015 and has said it cost about $1 million a month to keep the building running.
June 21, 2018: Ocean Resort Casino gets a casino license; Deifik says the new resort will "surprise the world.
June 27, 2018: In a Boardwalk surprise, two new casinos that were due to open Thursday started taking bets from gamblers a day early. The Hard Rock Hotel & Casino Atlantic City and Ocean Resort Casino both received permission Wednesday afternoon from the New Jersey Division of Gaming Enforcement to begin full operations, and both immediately started letting gamblers inside, according to a press release.
Contact: 609-272-7046
Twitter @acpresshuba​