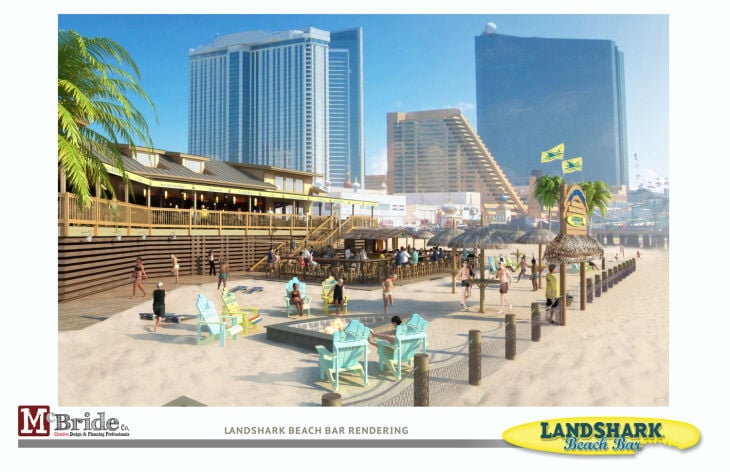 Now that summer is unofficially here, Atlantic City visitors will be looking for places to party outdoors, and they will not be disappointed as there are new offerings and expansions as well as some minor tweaks to make the city the place to be this season.
At the top of the list is the expansion of the Landshark Bar & Grill at Resorts Casino Hotel. Expected to open this weekend, the Jimmy Buffett-owned, beach-side partying paradise will include a new deck on the sand, plus an entire nautically themed fence will enclose an area so people can party right in the sand.
The deck at the Landshark Beach Bar will feature a new bar that will offer everything from frozen drinks to beer to margaritas, of course. New beach furniture will be available to relax in, and a firepit is being installed so nightly beach campfires can finally be a reality.
"Landshark did so well last year that the next logical phase was to expand," says Resorts CEO Mark Giannantonio. "And it's going to be great. It basically takes up the whole footprint of the beach in front of Landshark. It's going to be a very festive area with a beautiful bar, nice seating and even palm trees."
If you want food, you have to step into the main Landshark restaurant, but basically everything else will be available at the beach bar expansion.
Programming will play a big role, too, including live music daily beginning in June, plus Playmore Sports will offer beach games 4 to 8 p.m. Thursdays from June 26 to Aug. 28 including Beach Dodgeball, Spikeball, Volleypong and KanJam. Landshark will also offer cornhole, a giant Jenga set and more.
Playmore will kick off its new programming with the Big Beach Bash noon to 8 p.m. June 21, which will offer a variety of games to play for an all-inclusive $25, which will include prizes awarded to winners. After that, other beach events by Playmore will cost $5 per person.
If you wanted to always learn to paddleboard, you can do that at Landshark, too, as local surfing legend Dean Randazzo's Jersey Devil Surf Shop will offer daily lessons for $70.
"I think people are really going to embrace it," Giannantonio says. "It will not only offer a great place to drink on the beach, but it will be coupled with music and sporting events to make sure there is always action there. It's something we wanted to do last year, but there was too much going on in the first season. We are always looking at how we improve our operations here, and this was our next step in making the already successful Landshark even better."
Of course there are other great new, outdoor things to check out this summer.
Landshark's sister property, Margaritaville, recently rolled out a new menu that can be enjoyed inside or right on the boardwalk. There are more than 15 new and enhanced dishes and drinks, and the new recipes rely heavily on the inherent flavor of fresh and house-made ingredients. Standouts include the "Drunken" Shrimp Skillet ($13.99), shrimp sauteed in tequila key lime butter, roasted garlic and peppers; Asiago crab dip ($13.29) with lump crabmeat served with grilled crostini; Landshark Lager Fish and Chips ($16.99) with a thin and flavorful batter served with jalapeno tartar sauce; chimichurri flat-iron steak ($19.99) with fries; and desserts including the Chocolate Hurricane, which is about the most delicious and biggest banana split on steroids you have ever seen. New drinks include a blueberry pomegranate margarita, watermelon agave fresca and Planter's Punch with rum, sweet and sour, pineapple juice, pomegranate and bitters. Go to MargaritavilleAtlanticCity.com.
The Deck at Scores will officially open this weekend. Located inside Trump Taj Mahal Casino Resort, the rooftop venue offers an amazing view of the beach and boardwalk and will feature DJs, flat-screen TVs, cabanas and gourmet comfort cuisine from Executive Chef Will Savarese, who will offer some items from an outdoor BBQ pit. Relax in the sun during the day with frozen margaritas or sip cocktails and champagne or enjoy craft beer at night while listening to music and watching the game. Call 855-500-SCORES or go to Scores-AC.com.
Revel Beach will debut this weekend, offering a small beach-side bar that will be a more quiet oasis from the party-hearty atmosphere of HQ Beach Club. Hotel guests can enjoy free chairs and umbrellas, while non-hotel guests can pay a fee. With light food and a creative cocktail menu, this should be a neat spot. Drinks include mojitos, Long Island ice tea, a Reveltini with Bacardi Dragon Berry, Peach Schnapps and sour mix, and there's even Fish Bowl-size drinks for $25. Go to RevelResorts.com.
Bar Anticipation Beach Bar is also expected to open this weekend in the former Beach Bar location at Trump Plaza Hotel and Casino. The legendary Monmouth County-based original, commonly known as Bar A, will bring its fun brand to Atlantic City including a new menu, live music and DJs seven days a week and a new addition: 10,000 square feet of space right on the beach where visitors can relax oceanside under palm trees and be served food and drinks.
Although not outdoors, Cuba Libre inside The Quarter at the Tropicana Casino and Resort will open The Shack, a newly themed and re-branded bar on the second floor that will serve frozen mojitos and sangria in coconuts for $8.25. The Shack will be open every Friday and Saturday beginning at 5 p.m. and offer a full menu, including an empanada special: one for $3, two for $5. Go to CubaLibreRestaurant.com.
Tristan Paul Mack Wilds, the American actor and Grammy-nominated recording artist best known for roles on HBO's "The Wire" and CW's "90210," performed at The Pool After Dark at Harrah's Resort last week, a few days before DJ Pauly D of "Jersey Shore" continued his residency with a strong set that included a champagne christening of the crowd. Then singer/songwriter/rapper Lumidee Cedeno, known for her hit "Never Leave You ("Uh Oooh, Uh Oooh") entertained The Pool crowd the next night with a set.
Wine dinner at Vic & Anthony's
One of the best steakhouses in the city, Vic & Anthony's inside Golden Nugget Atlantic City, will offer a great wine dinner focusing on the excellent wines by former Eagles head coach Dick Vermeil.
The Vermeil Wines experience, which will include Vermeil being present for the entire evening, will begin 7:30 p.m. Friday, May 23, with a passed hors d'oeuvres — spicy fried oyster canape on lavosh with pickled fennel; eggplant and olive tapenade crostini — paired with the 2011 Sauvignon Blanc. The four-course meal overseen by Executive Chef Norman Reola includes watermelon gazpacho with smoked shrimp and crispy shallots with 2010 Dry Semillon; strozzapreti pasta with roasted quail in a Puttanesca sauce with 2009 Proprietary Red; prime ribeye "filet" with duck fat potatoes and Asian mushrooms and spicy coffee jus with 2005 Charbono and Zinfandel JLV; and the final course will be goat, cow and sheep cheeses with honey, fruits and nuts paired with the "1956 Block" Zinfandel Frediani.
Tickets, priced at $120 per person, are available by calling 609-441-8355 or go to VicAndAnthonys.com.
The WSOP National Championship comes to Atlantic City Thursday, May 22, to Saturday, May 24, at Bally's Atlantic City's new poker room.
The three-day No Limit Hold 'Em tourney begins at noon Thursday with all eligible players, and ESPN will be there to cover the action until the final table produces a winner on Saturday.
"The WSOP National Championship is really about toasting the most consistent and dedicated players of the World Series of Poker brand," says WSOP Executive Director Ty Stewart. "They have shown strong performance across our events and we're delighted to provide a platform in Atlantic City for the first time to showcase and award these championship caliber players."
The championship pits the top qualifiers from around the world who have competed in a series of up to 264 events that earned them the right to compete for the coveted WSOP gold bracelet and a prize pool in excess of $1 million in the three-day Atlantic City event.
For some fun, WSOP will host its first annual New Jersey Mayor's Poker Tournament for Charity at Bally's new poker room 2 p.m. Thursday. Atlantic City Mayor Don Guardian, Long Beach Island Mayor Joe Mancini and other mayors from Rosedale Park, Brick, Jersey City and Freehold Township will compete for $10,000 that will go to the winning mayor's choice charity. Go to WSOP.com.